6 Exfoliating Acid Toners That Will Make Your Skin Look Fresh AF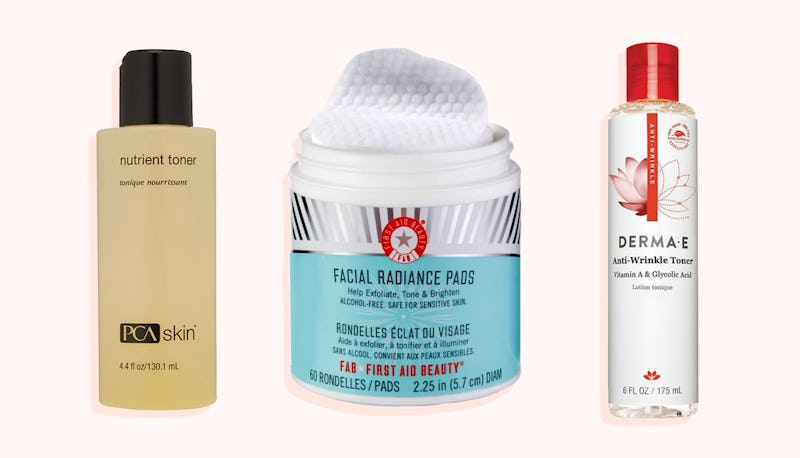 Amazon / Bustle
There are two types of skin exfoliation; physical, like with spinning face brushes, rough washcloths and gritty cleansers, and chemical, as in with acids. The best acid toners (or in other words, chemical exfoliants) can unclog pores, clear acne, remove dead skin, excess oil, leftover dirt, and makeup, and refine skin tone and texture.
Now, just because acid toners aren't as scary as they sound doesn't mean they're all good for all skin types. If you have sensitive skin, for instance, you might want to avoid formulas made for oily skin or acne-prone skin which tend to have stronger concentrations of acid. Similarly, you should opt to use an acid toner just three times a week or even once a week instead of every day until your skin adjusts to the strength of the ingredients. Remember, however, in the long term chemical exfoliation is still more gentle (and arguably more effective) than rough physical exfoliation which can cause micro tears in your skin regardless of your skin type.
After you've chosen the right toner for your skin type and skin concerns from the list below, cleanse your face with a gentle face wash or micellar water. In order to be most effective, a chemical exfoliating toner — or any toner for that matter — should be applied to clean skin with a cotton ball, pad, towel or soft cloth. To finish, use a moisturizer that contains SPF since acid toners will make your skin cells more vulnerable to sun and environmental damage. Happy toning!