6 Cheap Apple Watch Bands In Every Style & Color — & They're All On Amazon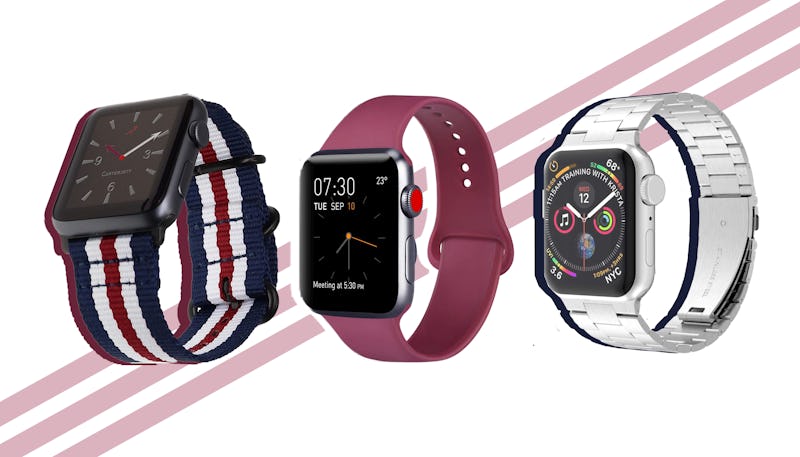 Amazon/Bustle
Beyond its appeal for being a super-smart timepiece, one of the best features of the Apple Watch is how easy it is to change the band for a new look. But if you're balking at the price of a new watch band from Apple, you're not alone (the basic silicone band will run you $49 and the leather styles start at $99). Lucky for you, the best Apple Watch bands on Amazon offer style and versatility, typically for a fraction of the price. Since it's Amazon, though, the selection is huge and somewhat overwhelming. Here are some things to consider as you browse for a new Apple Watch band.
For casual, day-to-day wear, a solid silicone band is a great basic. Available in a huge array of colors, they're affordably priced, and are often sold in bundles so you get instant variety in a single purchase. Active types might want to opt for a silicone sport band with perforated holes for extra breathability. You have a few choices when it comes to closures on silicone bands, and pin-and-tuck straps are low-profile and slick.
If you want a metal band, stainless steel is timeless and durable. Genuine and vegan leather options are available as well, and come in single and wraparound styles. Whichever band you choose, make sure to check that the sizing matches your model of Apple Watch.
The best Apple Watch bands on Amazon will give your wrist (and overall look) an instant upgrade.