6 Super Comfortable Aprons You Need To Protect Your Clothes While You Cook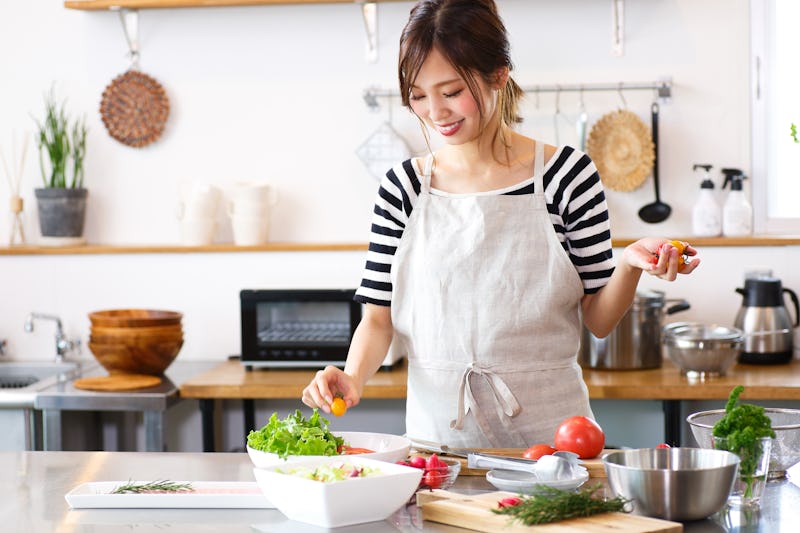 taa22 / Shutterstock
Between grease splatters, flour-covered counters, and food flying from the mixer, it's no secret that cooking can get messy. The best aprons can protect your clothes, often while providing extra pockets that give you quick access to essentials as you work.
When it comes to picking out an apron to use in your kitchen, there are a few different styles to consider:
A standard or bib apron is held in place by two straps — one that goes around your neck, and the other that ties around your waist. This style of apron is easy to take on and off. However, some find the neck strap to be uncomfortable, especially when wearing the apron for longer periods of time.
A cross-back apron features two long straps that go over the shoulders and cross at the back, eliminating any pressure on the neck.
A pinafore apron has a looser fit, as it hangs from the shoulders and drapes around your body like a smock. It usually doesn't have any straps, which makes it super comfortable, though these are slightly less adjustable than other styles.
A waist-style apron is just what it sounds like — an apron that hangs down from the waist. Just keep in mind that while it's the perfect place to wipe your flour-covered hands or pocket your phone, it won't protect your torso from kitchen messes.
In addition to style variations, aprons also vary when it comes to fabric or materials:
Cotton and linen are soft and comfortable. These fabrics are also breathable. They can usually be thrown in a washing machine, though you should follow the manufacturer's instructions.
Polyester is another common apron material. It tends to hold up very well in the washing machine, but isn't the best when it comes to breathability.
Rubber or vinyl aprons are totally waterproof against liquids. This is great for wet tasks like cleaning a fish or washing dishes, or for heavy-duty tasks in a garage or workshop. Rubber aprons tend to be heavy (vinyl, too, albeit slightly lighter) and can be hot to wear in the kitchen, so they're best for specialized use cases.
Whether you're a home chef looking for a linen pinafore or a professional chef seeking a classic white apron, these six amazing picks are both stylish and functional to wear in the kitchen. Amazon reviewers rave about them — and surely you will, too.