6 Surprisingly Comfortable Backless Bras That Actually Stay In Place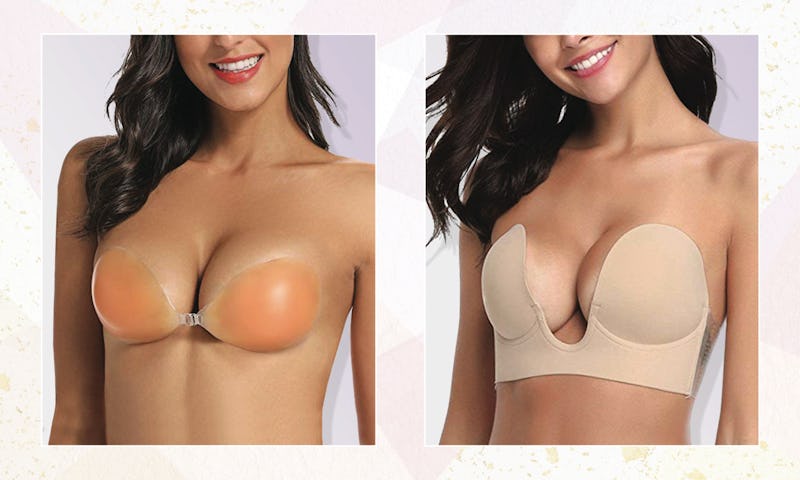 Bustle / Amazon
When you've got a dress or top that is open in the back and you don't want to go totally sans bra, the best backless bras are the answer. They can provide you with coverage to help prevent any slippage and give your chest some support.
Most often, backless bras stay in place using adhesive that sticks to your skin. That said, these bras come in a variety of different styles. You might be partial to one style over another based on personal preference or how it works with the outfit that you're wearing. For example, an adhesive nipple cover goes over your nipple (so that you can avoid a nip slip), but offers basically nothing in the way of support. On the other hand, adhesive bras (which come in cup sizes) usually offer more coverage and lift. They are often made of silicone and frequently have some type of closure in the front. If you're interested in wearing a more traditional-looking bra, there are backless ones that have adhesive tabs on the sides to keep them in place (and sometimes the bra itself is sticky, too). Some backless bras have a lace-up feature in the front (you know, the one you've seen all over social media) to give you some extra cleavage, if you're into that.
Nipple covers often come in one size fits all (or basic small and large sizing), but other backless bras are usually designed for specific cup sizes, so pay close attention to the size charts to get an accurate fit. Also, can we take a moment to talk about the lack of larger cup sizes when it comes to backless bras on Amazon? While the backless bras on the site often go up to a size F, those with a larger bust could look to nipple covers or a clever kit (which I've included at the end of this list) that can turn any bra into a backless one.
That said, Amazon reviewers are obsessed with these six backless bra choices. Read on to find out why!