If You Have Dry, Sensitive Skin, These Cleansers Were Tailor-Made For You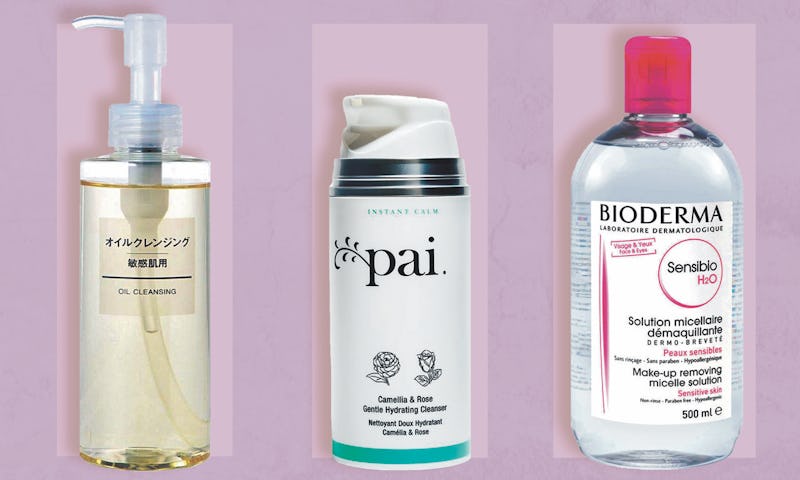 Amazon/Bustle
My skin has always been on the dry side, but for years, I was in denial that it was sensitive, too. Because my primary hobby is testing out new skin care products, I refused to accept that I might need to lay off the nightly beauty experiments — until a bout of perioral dermatitis forced me to accept reality. One of my dermatologist's first recommendations was to switch to a gentle, sulfate-free cleanser, and since then, I haven't looked back. The good news is, if you're shopping for the best cleansers for dry, sensitive skin, there are tons of suitable formulas out there — you just need to know what to look for. Below, my handy guide to choosing the best face wash that will neither dry out nor irritate your delicate skin.
If you're not entirely sure that your dry skin is on the sensitive side, it's still always better to play it safe. In fact, even if your skin tolerates most beauty products well, why would you want to use a cleanser packed with synthetic fragrances, drying sulfates, and other questionable ingredients when there are so many cleaner formulas out there?
So whether you have dry, sensitive skin like me or you're just interested in transitioning to a gentler face wash, the six picks below are sure to keep any unwanted reactions at bay. None of them contain any sulfates, synthetic fragrances, or other known irritants, and they're all hydrating, so your dry skin will be left squeaky-clean and baby-soft. And of course, don't forget to follow your cleansing routine with an equally gentle moisturizer to prevent further dryness and dehydration.
This article was originally published on