For Soothing Support In The Gym & Beyond, These Are The Best Compression Leggings To Get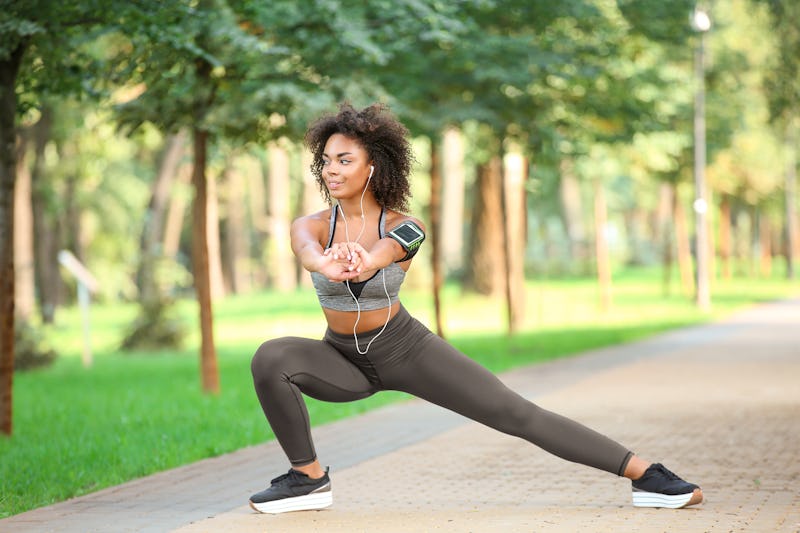 Whatever your reason for seeking out a pair (or three), the best compression leggings for women blend comfy form with high-tech function. Just about everyone can benefit from a good pair of compression leggings: Athletes love them for enhanced recovery, frequent flyers appreciate their circulation-boosting benefits, and many others choose them for a little relief from swollen feet and ankles.
Fabric is the most important thing to consider when you're shopping for compression leggings. While natural fibers are often preferable for apparel, that's not the case here: You want synthetic fabrics for their unrivaled bounce-back stretch and shape-retaining capabilities. Synthetic blends are also more likely to be moisture-wicking and quick-drying to keep you cool and comfortable all day long. No matter whether you choose nylon or polyester, a high elastane (aka Spandex) percentage is essential for effective compression without sacrificing mobility. A four-way stretch is ideal, which means the cloth will spread in just about any direction it's pulled, crosswise or lengthwise.
As a side note, some compression leggings are labeled in mmHg. This stands for "millimeters of mercury" and is how pressure is measured. Higher numbers, as you might expect, correspond to a stronger compression garment. These start from 8 to 15 mmHg, good for relief of achy legs, and 15 to 20 mmHg to make sitting for long periods (like flights) more comfortable. However, for anything more than 30 mmHg or if you're pregnant, it's best to discuss it with a doctor first.
With all of this in mind I've rounded up the best compression leggings for women on Amazon to wear from the gym to the plane and everywhere else in between.