The Ethically-Conscious Shopper's Guide To Cruelty-Free Deodorants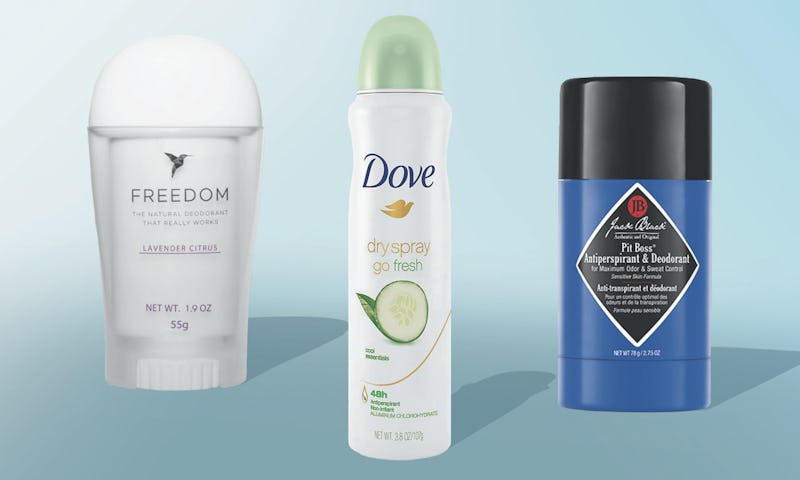 Amazon/Bustle
Finding the perfect deodorant can seem like a lifelong quest. The process requires a lot of trial and error, there are tons of different types of deodorants to choose from (sticks? sprays? creams?), and often, a lot of mainstream brands use questionable ingredients in their formulas. Naturally, that means shopping for the best cruelty-free deodorants isn't going to be an easy task, which is where this handy guide comes in. Ahead, find six ethically-conscious deodorant and antiperspirant formulas — but before you get to shopping, you might want to brush up on a few facts.
First, it's important to keep in mind the distinction between deodorant and antiperspirant. Deodorant helps get rid of odors, but it doesn't prevent you from sweating, while antiperspirants, on the other hand, essentially plug your sweat ducts. Antiperspirants can still be cruelty-free, but the various types of aluminum that serve as the active ingredient have been called into question. If you're new to the aluminum debate, recent reports have suggested that aluminum is linked to an increase in the risk of breast cancer and Alzheimer's disease. While it's important to note that no study has confirmed this theory, and that there are 18 aluminum ingredients approved by the FDA for use in antiperspirants, it has been enough to convince some people to make the switch.
If you go the antiperspirant route, not much will change when deciding to opt for a cruelty-free formula. But if you've been searching for a deodorant that doesn't test on animals, you'll probably have noticed that a lot of these cruelty-free options fall under the "natural" umbrella. While there's no regulated definition as to what constitutes a "natural" personal care product, when it comes to deodorant, natural usually refers to anything that's made largely of plant-based ingredients, and is aluminum-free. If you plan on going all-in with a natural deodorant, there are a few things you'll want to be aware of: mainly, that you will sweat. Deodorants won't stop you from perspiring, and as your body detoxes from the former chemical deodorants it's used to, you may sweat (and by extension, smell) more than usual. But after your body adjusts to the natural deodorant, you should start to notice things getting back to normal.
To help keep you smelling fresh, here are six of the best cruelty-free deodorants on the market.