These Are The 6 Best Eye Creams, Sticks, & Serums You Can Buy On Amazon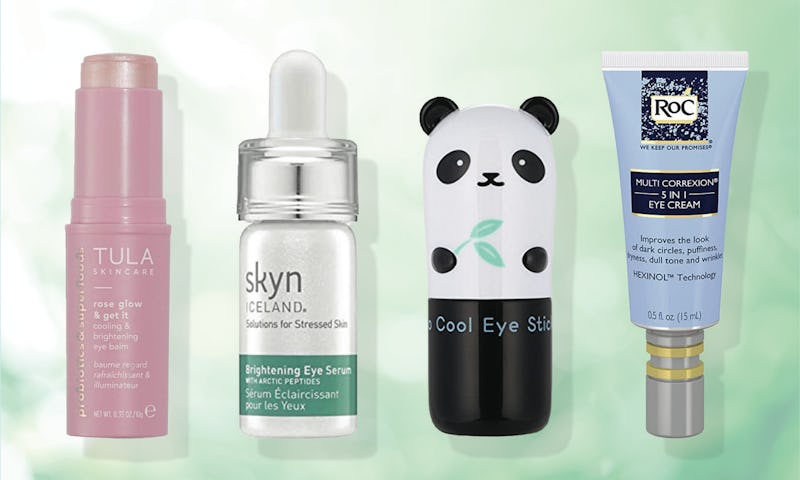 Amazon/Bustle
Navigating the seemingly-endless selection of eye creams out there can be quite the challenge, even when you're shopping in-store. But if you prefer to grab your beauty products on sites like Amazon, you can guarantee things are going to get even trickier. While seeing what your fellow shoppers are saying is a great place to start, finding the best eye creams on Amazon requires more than just looking at reviews — after all, what works for your bestie might not work for you. Most importantly, you need to establish what your main concerns are and take a close look at the ingredients list.
To simplify things as much as possible, first, decide what type of formula you tend to prefer: do you love rich creams? Lightweight serums? Or maybe even cooling balms? Then, think about your primary concerns. If you're looking for an eye cream that offers classic hydration, ingredients to look for include hyaluronic acid, glycerin, and even aloe and cucumber extracts, which also tend to be soothing and softening. Or, you might be more interested in keeping the skin around your eyes smooth, firm, and plump, in which case an eye cream that contains retinol might be more up your alley. On this list, you'll also find an eye cream that was formulated for sensitive skin, a travel-friendly balm with illuminating properties, and an under-$25 pick that tackles just about everything.
Regardless of what you're looking for, scroll on to discover six of the best eye creams on Amazon.