Lack Sewing Skills? These Fashion Tapes Fix Wardrobe Malfunctions In Seconds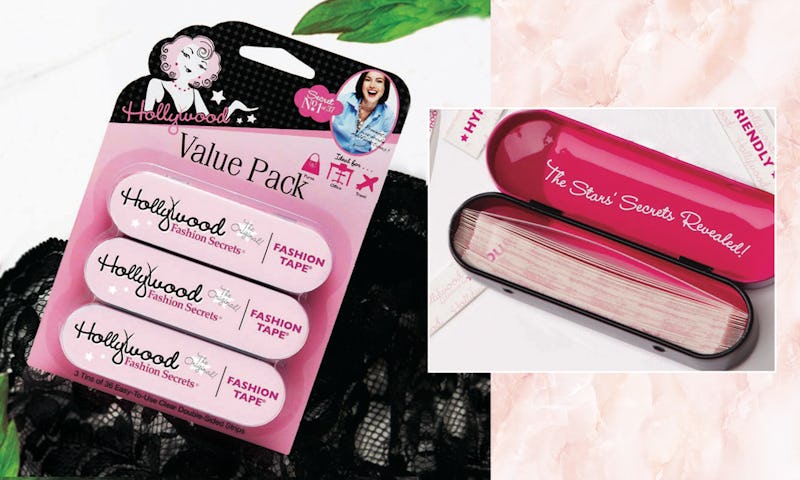 Amazon
If you need to patch up a loose hem, secure a bra strap, or fasten a button gap but lack sewing skills or time, the best fashion tape prevents wardrobe malfunctions, can work on various fabrics, and is simple to use. Understanding how and even where you will use the tape to address common clothing issues is key. Here are a few tips to keep in mind before you shop.
Fabric Needs
Before you buy fashion tape, consider the fabric that will likely require mending. Some fashion tapes are strong enough to hold heavier fabrics like denim or wool, but can damage lighter fabrics like chiffon, silk, and cotton. Stronger adhesives work well on fabric-to-fabric fixes like hems, but can irritate your skin if you're using them to adhere a strap to your shoulder, in which case it may be better to shop for a tape that is safe for sensitive skin. There are even waterproof tapes that are made specifically for securing bathing suits straps.
Ease of Use & Portability
Most fashion tapes are designed in pre-cut strips that are great for on-the-go wardrobe malfunctions and are ideal for bra straps and smaller fixes, but limit you to only using them one at a time. Fashion tapes that come on spool dispensers are easy to use and allow you to cut as much or as little tape as you need, which is ideal for securing larger swaths of fabric, but not the best when you're out and lack scissors. For portability, shop for a tape that comes in a portable dispenser, making it easy to have an emergency back-up supply in your purse.
It's time to shop for fashion's best-kept styling secret. This list includes highly rated fashion tapes that are loved by reviewers and are considered the best on the market — including one trusted by Jennifer Lopez.
We only recommend products we love and that we think you will, too. We may receive a portion of sales from products purchased from this article, which was written by our Commerce team.