These Compact Grills Are Perfect For Burgers On Your Balcony — & Hello BBQ Season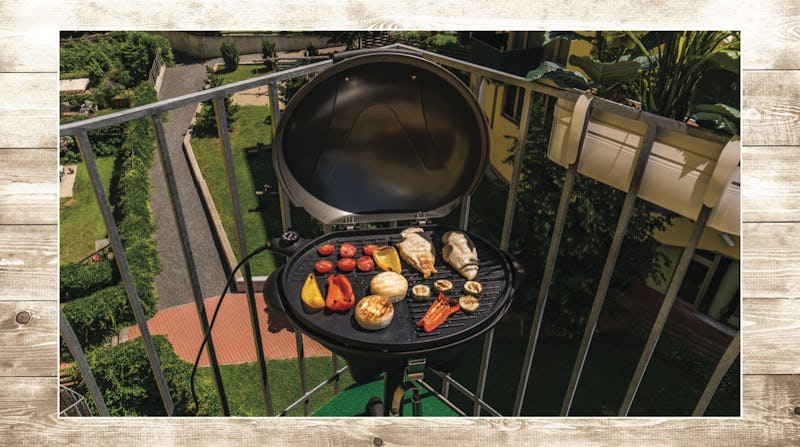 Shutterstock/Marian Gentl
Whether you're after the perfect sear on meat or vegetables, nothing holds a candle to the outdoor grill. But if you live in apartment, smaller spaces combined with building regulations can make alfresco grilling a bit of a challenge. The best grills for apartment balconies make things easier by offering a small footprint. You will need to follow your state's and building's grill rules, however, because some areas consider grilling on a balcony or patio to be in violation of fire codes.
Once you know what's allowed for your space, finding the perfect grill is a matter of personal preference (and budget), since there's a fuel source and cooking capacity for everyone. If it's your first time buying a grill or you want to compare the types before investing in a new model, use this quick guide:
Gas
Pros: This is the most popular grill type. A propane (or natural gas) grill heats up quickly — typically within ten minutes — and has reliably good flavor, although it typically lacks the smokiness of charcoal.
Cons: They tend to be more expensive; you'll also need to buy propane tanks, which is an ongoing expense, or have a hookup to natural gas line.
Charcoal
Pros: Many love this type of grill because it cooks hotter than gas, delivering the best outdoorsy flavor and sear.
Cons: It takes a bit of effort to properly heat the coals as well as safely extinguish them; for cooking time, it could take as long as 15 minutes for high heat or up to 30 minutes for medium heat. You'll need to buy extra charcoal, and this type in particular might be banned by your apartment.
Electric
Pros: An indoor/outdoor flameless grill is ideal for anyone who can't use charcoal or gas. They're the least likely to be verboten to apartment-dwellers.
Cons: You get solid grill marks and crisping but not any deep smokey flavor. But by that same token, they're less likely to bother your neighbors.
You'll find some of the best versions of each type of grill below, in a mix of portable and traditional models. These six grills come in the compact size apartment dwellers need with enough firepower to handle quick weeknight dinners and lingering weekend parties alike.
We only recommend products we love and that we think you will, too. We may receive a portion of sales from products purchased from this article, which was written by our Commerce team.