The 6 Best Korean Serums For Hydrating, Brightening, Blemishes, & More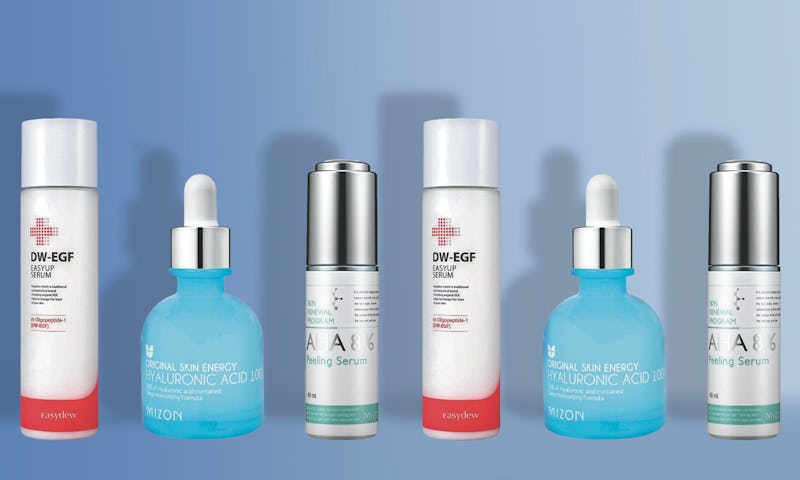 Bustle/Amazon
In Korean beauty regimens, serums are king. There are a few other products that are nonnegotiables — eye cream, moisturizer, and SPF, namely — but serums are perhaps the most highly regarded of the bunch because of their targeted approach to specific skin concerns and high concentration of active ingredients. Many of the best Korean serums are even more potent than their U.S. counterparts and often use innovative ingredients you wouldn't find elsewhere.
Similar to your search for any other beauty product, when shopping for a serum, you want to take into consideration your skin type. Drier skin will benefit from hydrating ingredients like hyaluronic acid to retain moisture, vitamin E to soften, and even glycolic acid, which will gently exfoliate and help your moisturizer or night cream penetrate deeper. On the opposite end of the skin spectrum, if you have oily or acne-prone skin, you'll want to look for serums that contain soothing and anti-inflammatory ingredients like centella asiatica or even sake. Both are natural ways to target oil production and clear skin.
If you're more concerned with achieving an even texture and fading hyperpigmentation, look for a formula with vitamin C. The supercharged brightening ingredient can also help protect skin from environmental damage and boost collagen production.
To help get you started, here are six of the best Korean serums you can buy online.