The 6 Best Lip Treatments You've Never Heard Of — & They're All On Amazon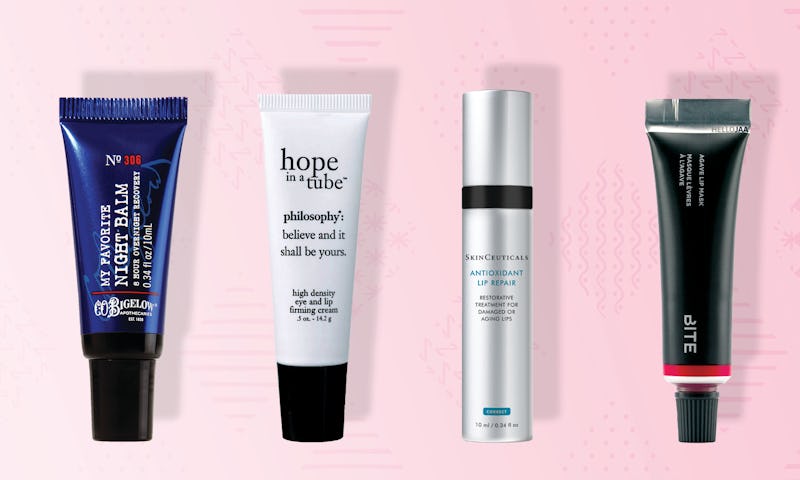 Amazon / Bustle
Your lips are exposed to the same harsh environmental conditions as your skin — cold air, dry air, the sun's rays, etc. — but are rarely treated with the same care. Since you'd never dream of skipping out on your nightly moisturizer, you should also be incorporating one of the best lip treatments into your daily and nightly beauty routines. And gone are the days when medicated balms, like Carmex and Blistex, were your only options; today, you can find everything from lip masks that simultaneously moisturize and exfoliate to tinted treatments that'll replace your favorite gloss.
Before investing in the first lip treatment you come across, think about your own specific lip care goals. If hydrating and softening your lips are your primary concerns, a product designed to be used overnight, like a lip mask, is a wise choice since these treatments tend to have a higher concentration of moisturizing ingredients. Look for a formula that combines humectants (like hyaluronic acid, glycerin, ceramides) and emollients (like shea butter, cocoa butter, and jojoba oil), which will moisturize, smooth, and soften all at once. But if chapped or flaky lips are continually causing you discomfort, consider exfoliating your lips with a lip scrub before applying any moisturizing treatments. Lip exfoliators will help shed dead skin and soften those flaky areas, which also allows any balm, ointment, or mask you apply afterwards to do its job more effectively.
Ahead, you'll find six of the best lip treatments for heavy-duty repairing, from masks to creams to organic balms.