6 Of The Best Oil-Free Moisturizers For Oily Skin, Acne, & Clogged Pores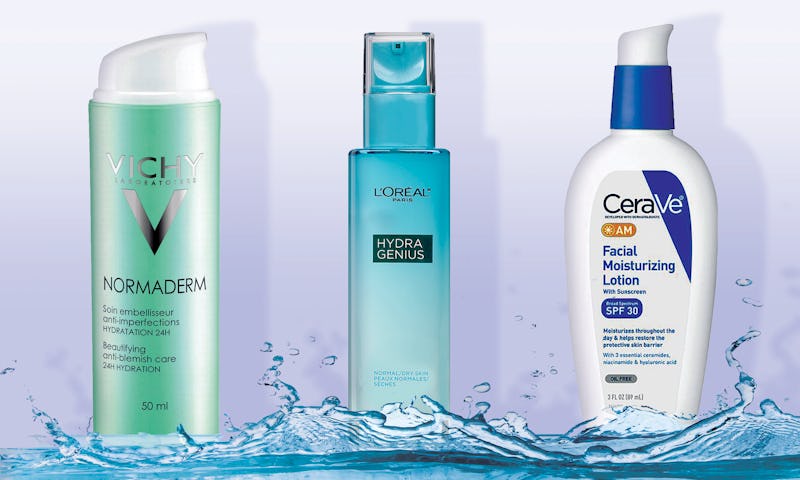 Amazon/Bustle
When your face is feeling extra dry (maybe from the cold weather or using something like retinol), your skin might require a rich, heavy moisturizer to keep it hydrated. But as the weather fluctuates or changes in your skin occur, a lighter, oil-free option might become more your speed. This is especially true for oily and acne-prone skin types, as those heavy oils that seal moisture in can also clog pores and produce even more oil. The best oil-free moisturizers will still keep skin hydrated without leaving behind a greasy residue.
Aside from looking for the obvious "oil-free" label on your moisturizer, you can also determine if your moisturizer is oil-free by looking at the ingredients. Avoid anything that contains heavier oils like petrolatum, mineral oil, and lanolin, and look for lightweight hydrators instead, like glycerin, dimethicone, and hyaluronic acid.
Acne-prone skin types might also benefit from choosing an oil-free moisturizer that treats breakouts with ingredients like salicylic or glycolic acid, or even retinol. You can also try to combat shine from showing up mid-day by looking for a moisturizer with a mattifying ingredient in it, like zinc.
You'll also want to consider sun protection. If you prefer to put your sunscreen on after your moisturizer, check out this list of the best facial sunscreens, which includes a handful of great oil-free options for greasy and/or acne-prone skin. But if you want to save yourself an extra step in the morning, invest in an oil-free moisturizer that also contains an SPF 30 or higher to keep your skin protected from sun damage.
To help get you started, here are four of the best oil-free moisturizers on the market — whether you have skin that's more oily or acne-prone, or you're looking to keep your skin from feeling greasy as the temperature increases.