These Are The Absolute Best Moisturizing Shampoos & Conditioners For Dry Hair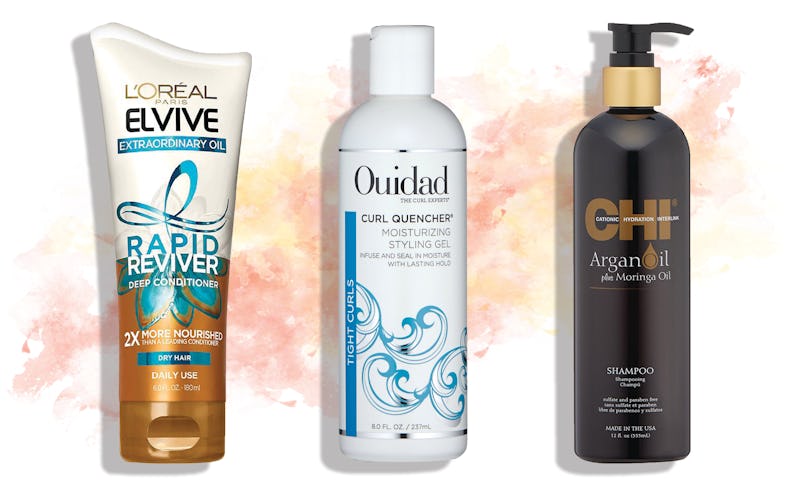 Bustle/Amazon
As anyone with dry hair knows, the maintenance is real. It's a constant quest for more moisture, and sometimes, all the masks and leave-ins in the world don't help. With dry hair, it's especially important to pay attention to the products you use in the shower, since the wrong cleansers can cause further dryness and frizz. Ahead, a guide to the best shampoos and conditioners for dry hair to try now.
Before you arm your shower with a new arsenal of hydrating products, it's important to take steps to prevent dry hair from occurring in the first place. Factors like UV exposure and pollution can be harder to eliminate if you plan on leaving your house, which is why you'll want to mist a protecting spray over your hair if you plan on spending time outdoors. You can also look for shampoos and conditioners that contains ingredients which help protect hair from the sun and pollutants like argan oil and sunflower seed oil.
Other common causes of dry hair include over-processing and styling. That includes everything from dyeing, perming, and chemically-straightening your hair to using heat styling tools, like blow dryers and curling irons, on a regular basis.
In addition to cutting back on the above, dry hair types should look for both a shampoo and a conditioner that contain multiple moisturizing ingredients. Most popular among these include oils like argan, moringa, and camellia. These are naturally loaded with antioxidants and fatty acids that help soften hair, encourage moisture retention, and prevent damage.
Ahead, you'll find six of the best shampoos and conditioners for dry hair, no matter what your hair type or your budget.