Snail Mucus Creams Can Do Wonders For Your Skin — & These Are The Best Ones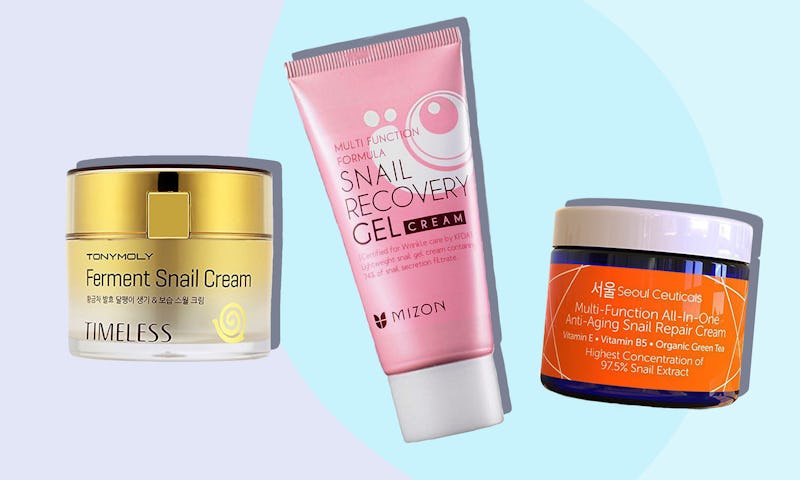 Amazon / Bustle
If you're someone who is a fan of new, innovative beauty ingredients, you're likely familiar with snail slime. It's the secretion left behind when snails are on the move, and it helps to protect their bottom halves from bacteria, cuts, and other environmental factors. But it's also useful for skin care, especially in face creams, which is why plenty of folks are constantly on the hunt for the best snail creams on the market.
But what, exactly, makes snail mucous such a skin care miracle? Well it's packed full of elastin, hyaluronic acid, glycolic acid, protein, and more. And when you apply those things to your skin, they can work wonders. The benefits of snail mucin, when applied topically, include faded dark spots (and an overall more even looking skin tone) and firmer, plumper, more hydrated skin. Some people claim it's the key to clearing up post-inflammatory hyperpigmentation (like acne scars) for good. And while it's offered in serums and eye creams, snail slime tends to be a favorite ingredient in moisturizers because of its multi-tasking abilities and ease-of-use.
If you have ethical concerns about using snail mucin-based products, the good news is that the extraction process doesn't really harm the snails. Labs aren't required to disclose their processes, but since snails produce more mucin when they're healthy, there's a big push behind ethically sourcing the mucus and caring for them well.
Ready to get the benefits of snail mucus without having those slimy critters crawling all over your face? Look no further. Ahead, we've rounded up the best snail creams out there. Get ready to slather them all over your face.