Kick Those Buckets To The Curb! These Spray Mops Will Get Your Floors Sparkling Much Faster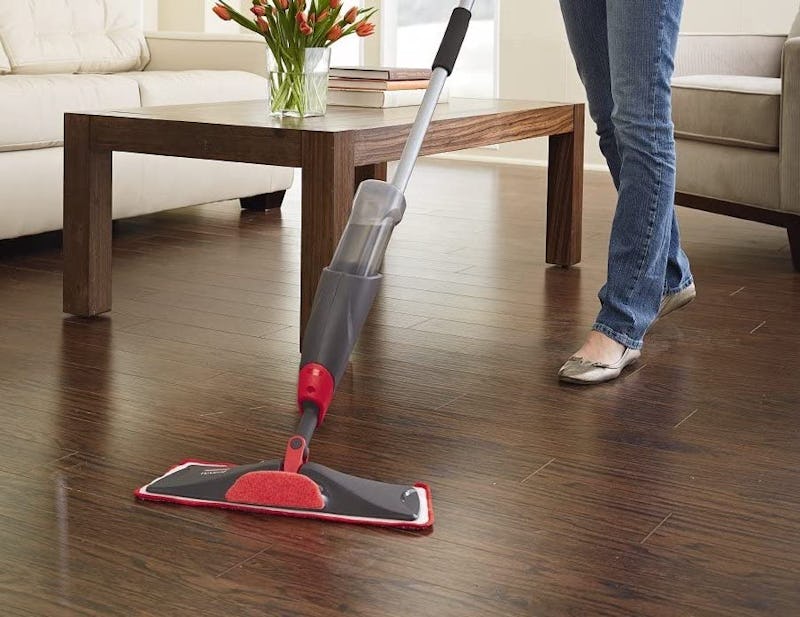 Amazon
Much less of a hassle than toting a bucket around, with the press of a button a spray mop can dispense a cleaning solution onto your floors so you can get them sparkling way faster. But even though they all basically function the same, the best spray mops include eco-friendly tools like reusable bottles and microfiber pads, and some also have special features like a spinning head. Which one you choose will ultimately depend on your budget, your floors, and your cleaning needs.
Surfaces
Most spray mops are typically safe to use across all sealed or finished hard surfaces, including hardwoods, tile, and stone, but the one type that can be tricky is laminate. Since water can cause laminate to warp more easily, you'll want to be sure to verify your wet mop is compatible and follow the brand's directions carefully. Finally, it's best to avoid steam mops entirely if you have laminate.
Cleaning Pads
For the most versatility and cost savings over the lifespan of your spray mop, look for models that come with reusable bottles or tanks that allow you to choose what kind of cleaning agent you fill inside. Similarly, you'll save some dough in the long run if your mop permits the use of reusable microfiber pads. Not only are these more environmentally friendly, but microfiber is also known to be one of the most effective cleaning materials.
Capacity
In terms of the tank capacity, these mops are designed to squirt out solution efficiently (usually on demand), so it may not be necessary for you to get the largest one possible, especially if you only intend to use it in your bathroom or kitchen. However, the larger the liquid container, the less you'll need to refill it.
Features
The most traditional spray mops are cordless and either has manual or battery-powered triggers. If you go with a corded model, however, you'll lose some freedom but gain a few extras — like a vacuum capability, a steam cleaner, or one that spins and scrubs. Just note that these hybrid options may not specifically be called "spray mops" and they are usually sold at a higher price point.
Now that you're ready to find the best spray mops for your needs, start with the five below, which are among the most highly reviewed on Amazon.
We only recommend products we love and that we think you will, too. We may receive a portion of sales from products purchased from this article, which was written by our Commerce team.