These Are The 6 Best Vitamin C Serums For Brighter, Clearer Skin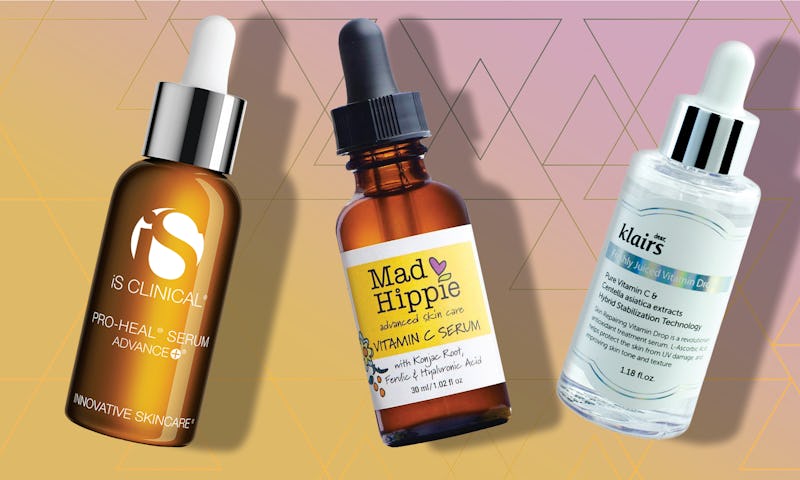 Amazon/Bustle
There's never a bad time to amp up your skin care regimen's sun protection defenses. Whether you're looking to keep your skin safe from future signs of sun damage or help reduce the appearance of damage that's already been done (aka sun spots), incorporating one of the best vitamin C serums into your beauty routine can help.
In an ingredients list, you'll most likely find vitamin C listed as l-ascorbic acid, which experts agree is the most effective form of vitamin C, along with tetrahexyldecyl ascorbate. You'll also want to pay attention to the concentration level of the vitamin C, as something between 10 and 20 percent is said to be the most stable, and therefore, the most effective when it comes to protecting the skin and improving its overall tone and texture.
While you can certainly apply your vitamin C serum at night, to reap its full sun-protecting benefits, apply it in the morning after cleansing, and before you moisturize and layer on your SPF (which, yes, you still need to wear). You'll also want to be careful about using your vitamin C serum after any cleansers, treatments, or moisturizers that contain salicylic acid, glycolic acid, or retinol, as this can heighten common side effects that come with these ingredients, like burning and redness (especially if you have sensitive skin).
It's also worth noting that vitamin C is a delicate ingredient because it degrades from sun exposure. Because of this, you'll want to store your serum away from the sunlight and be on the lookout for any changes in its color, texture, or smell. A serum packaged in a darker bottle is also ideal, as it helps minimize the product's exposure to sunlight.
Ahead, you'll find six of the best vitamin C serums that are all Amazon user-approved to brighten, protect, and firm your skin.