These Rain Jackets Are Lightweight, Foldable, & Perfect For Traveling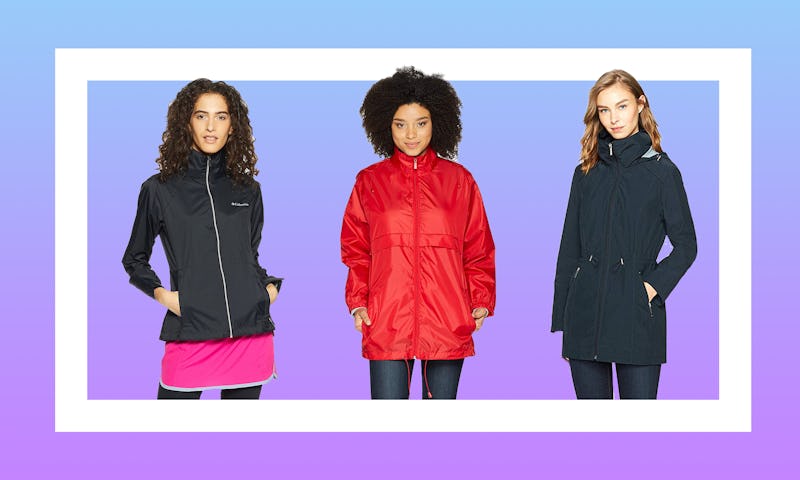 Bustle/Amazon
It's undeniable that when it comes to choosing the best jacket of any kind, a degree of aesthetics comes into play. But since style is largely in the eye of the beholder — when it comes to determining the best women's rain jackets for travel — the focus here is primarily how functional each jacket is in terms of being weatherproof and packable. But, that's not say there isn't some solid choices that are stylish, too.
When it comes to being packable, most rain jackets aren't particularly bulky. But the best packable rain jackets can be folded down into an accompanying pouch so that you can easily toss it in your day pack or even stow it away in your purse. The cream of the crop can actually be folded down and stored in its own pocket. This is particularly beneficial because you won't need to keep track of the pouch when it's not in use.
Next obviously, how waterproof a jacket is, is going to play a big role in buying a rain jacket. But an equally large part of that is also going to be your budget — because the two typically correspond.
After reviewing expert opinions and sifting through hundreds of user reviews on several sites, North Face's Venture Rain Jacket was consistently praised for its quality rain protection. But, if you're not ready to spend close to $100 on a jacket, Columbia's Switchback rain jacket costs half the price, and is a close second in terms of rain protection (that's why it's our overall best pick). On a serious budget? You can get a solid, packable rain jacket for less than $15. It may not keep you 100 percent dry in a downpour, but if you're hoping that you don't even have to use it, then the price for the quality can't be beat.
Of course, as I said, personal style is a real factor for a lot of people. And to be honest, you don't exactly need a serious rain jacket to protect you from a little mid-day drizzle while you wander around a city. So if you're simply looking for the best rain jacket for travel that won't look out of place if you need to wear it out to dinner, there are several nice-looking rain jackets that come in convenient little pouches so you whip it out in an emergency.