These $26 Yoga Pants Have 5,000 Amazon Reviews — Plus 6 Inexpensive Leggings Reviewers Love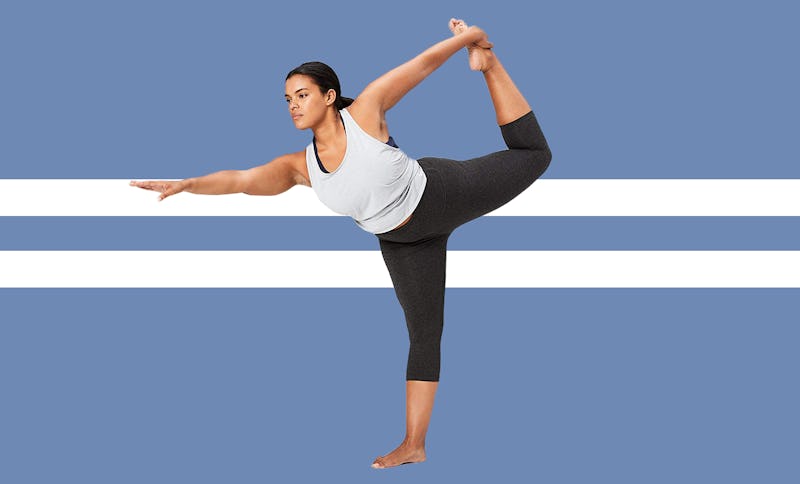 Amazon/Bustle
The world of leggings is filled with hundred-dollar pairs that tout expensive fabric blends and seamless designs. But, a well-kept secret: You don't have to shell out big bucks for a decent pair. There are plenty of cheap yoga leggings out there that are comfy and functional. I've poured over plenty of affordable leggings and can say that the ones gathered up on this list represent the absolute best cheap yoga pants you can find.
When shopping, firs consider the length of the leggings. Generally yoga pants come in full-length and capri sizes, which becomes especially important if you're petite or have long legs. It's also important to consider fabric thickness and quality before you buy. For example, some leggings are made with thinner material which offers plenty of softness and stretch, but not so much in the coverage department. And if you're into hot yoga, you might want to opt for a pair that is moisture-wicking, and can help combat the extra sweat that comes with a workout in 100-degree heat.
Another thing to consider is overall functionality. If you're only planning on using your leggings for yoga, be sure to look for features that come in handy for workouts, like in-seam pockets, compression technology, and cooling mesh panels. But if you know you're going to wear them to the studio and brunch, consider a more basic, neutral pair for flexible use.
Keep scrolling: Here are the best cheap yoga leggings for everything from boat pose to brunch.
This article was originally published on