A Bed Set With Everything You Need For Under $50 & 6 Other Great Comforters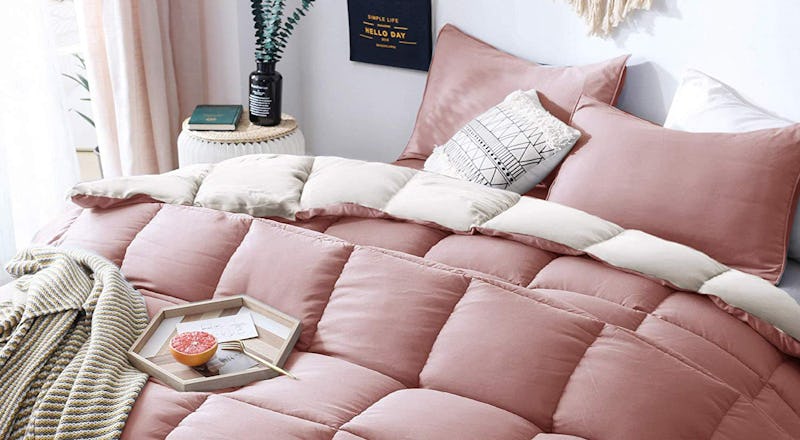 Amazon
After a long day, you deserve a cozy snooze, and picking one of the best comforter sets with a pillowcase or more makes it easy. Choosing largely comes down to personal preference and style, but you should also take the following factors into consideration:
Shell material
The outside of the comforter can be made from a variety of different materials. Two of the most common include:
Cotton: It tends to be nice and soft, while also super breathable.
Polyester: Polyester is durable and cheap, but isn't always the best when it comes to letting air pass through.
Filling material
Down: Down-filled comforters are very warm, yet breathable and lightweight. If you go with a down-filled comforter, make sure to pay attention to the fill power, which is the amount of space one ounce of down takes up. Essentially, the higher the fill, the warmer the comforter. A fill power of 600 or higher will be warm and toasty. However, down-filled comforters are usually pricey, and may not always be machine-washable. Also, they usually aren't sold as part of a set, so you'll need to buy a duvet cover and pillow cases or shams separately.
Down alternative: Down alternative comforters are typically filled with cotton, polyester, or rayon. These comforters are usually much, much cheaper and are typically easier to wash. This pick is ideal if you are allergic to feathers or don't want to use an animal product in your home.
With all of this in mind, here are seven comforter sets that Amazon reviewers swear by, ranging from a luxurious (and super warm) down comforter to a bed-in-a-bag set that has everything you need at a great price.