For The Smoothest Coverage, These Concealer Brushes Deliver Flawless Results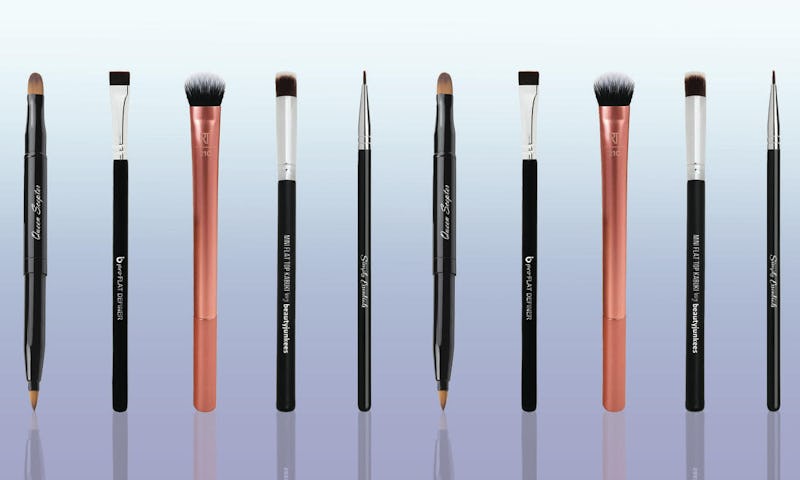 Amazon / Bustle
When I worked as a makeup artist, having the right tool for the job made all the difference, and take it from me, the best concealer brushes will make fast work of sleepless nights and skin woes. Yet, with so many brushes on the market, it can be difficult to know which ones are right for your needs.
A Brush Guide
Different types of makeup brushes are better at concealing certain things.
For under eyes: An under-eye concealer brush should be flat and about the width of one of your fingertips. The shape and size follow the contour of your eye while allowing you to pat concealer gently on delicate skin.
For covering acne: A skinny brush especially one with a pointed tip is perfect for stippling heavy coverage where you need it while allowing the rest of your skin to breathe.
For heavy coverage: People who are looking to lay down heavy coverage over large areas — for example, to cover melasma or tattoos — will want a flat brush like the ones used for under the eyes or something similar to a Beauty Blender sponge that can quickly cover a larger surface area.
For setting: If you're targeting under the eyes, you'll want a large fluffy brush with a dome shape that's larger than a concealer brush but not quite as big as what you'd use to contour. For acne, a small dome-shaped or flat-top brush allows you to place powder without shifting the makeup underneath. For larger areas, you might prefer a puff or sponge for efficiency, but press gently and make sure to dust off any excess.
Synthetic Vs. Natural Bristles
Synthetic bristles are usually preferred for concealer brushes. Since you're probably working with creamy or liquid products, you'll want to be able to thoroughly wash them on a regular basis, and natural brushes tend to be harder to clean. Taklon is a high-quality type of synthetic bristle and is a name to watch for if you're in the market for cruelty-free makeup brushes.
Whether you're just starting out or a seasoned pro, these are some of the best concealer brushes to add to your collection.