Remember George Michael By These Amazing Quotes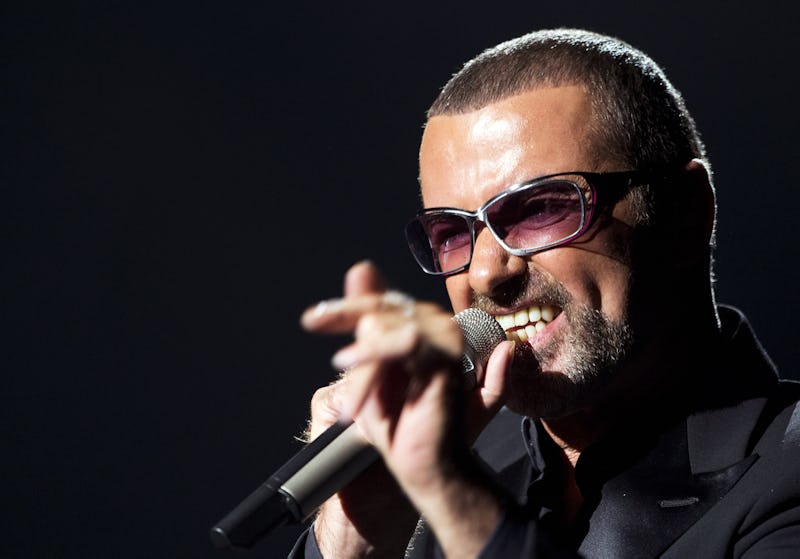 MIGUEL MEDINA/AFP/Getty Images
According to reports from multiple outlets, and confirmed by his publicist on Sunday, Dec. 25, famed British singer-songwriter George Michael died at his Oxfordshire home. According to the BBC, Michael ― who suffered a near-death health incident in 2011, being hospitalized with a severe case of pneumonia ― is said to have "passed away peacefully," albeit at a tragically young age. If you're one of Michael's countless fans, this is no doubt devastating news. Here are 7 of the best George Michael quotes from throughout his long career, although far shorter than anyone might have hoped.
Michael's 2011 bout with pneumonia made headlines, as it caused the cancellation of a slew of tour dates, and forced him into an intensive care unit to recover. Though it caused a scare among fans and surely among his loved ones, he ultimately rebounded from the illness. However, details surrounding his cause of death have yet to be released. According to a statement from his publicist, his family "would ask that their privacy be respected at this difficult and emotional time," and no further comment will be offered for the time being.
From his time in the iconic British pop duo Wham! through his decades-long solo career, here are seven quotes from the late pop legend.
1. On "Finding The Right Person"
Throughout the 1980s and 1990s, it was rumored and widely speculated that Michaels was gay. In 1992 he simply emphasized the importance of "finding the right person" as opposed to answering people's frivolous questions.
I will never say if I'm gay. I have never thought about my sexuality being right or wrong. To me it has always been a case of finding the right person.
2. On Marijuana
Although Michael was entirely up-front about his use of marijuana in a 2006 TV program, he did not speak 100 percent positively about it. Or, rather, he didn't recommend it for people who weren't "in the right position to take it."
This stuff keeps me sane and happy. I could write without it ... if I were sane and happy. I'd say it's a great drug - but obviously it's not very healthy. You can't afford to smoke it if you've got anything else to do. It can be a terrible, terrible drug. You've got to be in the right position to take it. You've got to have achieved most of your ambitions because it chills you out to such a degree that you could lose your ambitions.
3. On Being "Forced Into Revealing" Himself
In 2008, discussing his first American tour in years, Michael reflected on how his private life had been forced into the public sphere in a way that showed his audiences "a much more rounded individual."
Because of my brushes with the press and the law, and also some of the bereavements I've gone through that were made public, I have been forced into revealing a lot more of myself than I ever had before. Therefore, when I step out on stage, people are seeing a much more rounded individual. They're seeing someone with strengths and weaknesses. And it's made a huge difference, in terms of the warmth in the shows. It's absolutely incredible.
4. On Being A Star
All the way back in 1987, in a interview with British TV presenter Jonathan Ross, Michael disputed the idea that there's any such thing as a "reluctant star," admitting that he sought the love of the public to make up for his own weaknesses.
There is no such thing as a reluctant star. Stars are almost always people that want to make up for their own weaknesses by being loved by the public and I'm no exception to that.
5. On Feeling No Shame
In 1998, in an interview with CNN's Jim Moret, Michael publicly acknowledged for the first time that he was gay. And although he confessed to feeling "reckless and weak" for how his sexual orientation was exposed, he made it clear that he felt no shame about it.
I want to say that I have no problem with people knowing that I'm in a relationship with a man right now. ... I don't feel any shame. I feel stupid and I feel reckless and weak for having allowed my sexuality to be exposed this way. But I don't feel any shame whatsoever.
6. On "The Whole Business"
Michael clearly had a strong opinion of the music industry in which he worked, as well as his perception of its core motivations.
The whole business is built on ego, vanity, self-satisfaction, and it's total crap to pretend it's not.
7. On The American Government
Back in 2002, during the first year of the war in Afghanistan, Michael started getting political, a relatively new development in his career that risked a backlash.
I don't consider Americans bullies, but I do consider the American government bullying. Our government needs to reassure [our] Islamic population that we are not going into the Middle East with a gung-ho attitude, blindly following America.
Needless to say, Michael was a major figure in pop music history, and his death will cast a long shadow, joining iconic musicians like David Bowie and Prince who also passed away in 2016. Michael was just 53 years old.