7 Jump Ropes You Can Use To Work Out At Home — & They're All On Amazon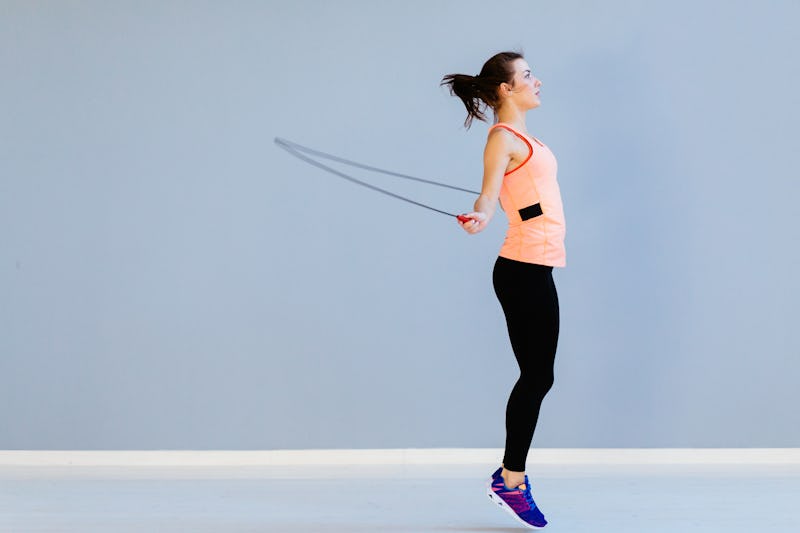 Shutterstock
If you're looking for an easy way to work out wherever you are, the best jump ropes can come in clutch. After all, there are so many benefits to jumping rope it's hard to know where to begin — for starters, jumping ropes gets your heart pumping, tones your muscles, increases spatial awareness, and bolsters cognition. But, it's important to make sure when shopping for a jump rope, that you get a quality one that meets your needs.
Bad jump ropes, for example, can slap your legs and leave awful welts across your shins. They can chafe up your hands, give you rope burn, and leave blisters in the crease between your thumb and pointer finger. Worst of all, they will tangle up every three spins and you'll spend half of your workout with the cable wadded up in a little ball. Nobody has time for that.
But what makes for a good jump rope? That depends on which benefits from jump roping you are hoping to get. If your goal is speed, then you'll want something super lightweight with an efficient twirling mechanism — preferably a ball-bearing style — that will give it acceleration and keep it moving. On the other hand, if cardio is your objective, you'll want something heavier, possibly even weighted, that takes more effort to spin around. Here is a list of the best jump ropes available for every type of workout and athlete.
Bustle may receive a portion of sales from products purchased from this article, which was created independently from Bustle's editorial and sales departments.
This article was originally published on