The 7 Best Oils For Hair Growth And Thickness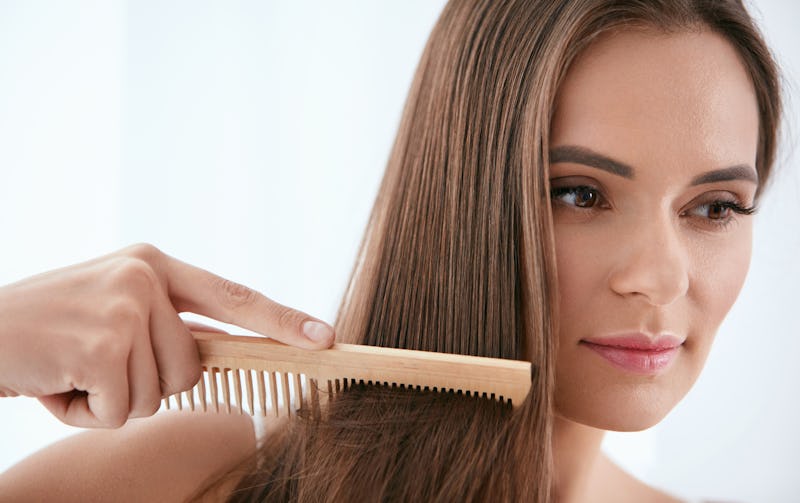 Puhhha/Fotolia
The promise of fuller, thicker hair can make even the most outlandish claims from hair products sound tempting. But rather than rely simply on claims from bottles and advertisements, I asked a dermatologist about what the best oils for hair growth and thickness actually are.
First, the not-so-good news. "Vitamins, supplements, and other products including hair oils that promise thicker, fuller hair are not FDA approved, are an unregulated market, and not well researched," Alina G. Bridges, D.O., a dermatologist at the Mayo Clinic explained. That means major hair loss likely cannot be reversed or stopped simply with a topical oil. That doesn't mean all is lost, however. For people with mild hair loss due to genetics, stress, or diet, some oils can actually help. While not all will aid in hair regrowth, they can also make hair look fuller by keeping the hair and scalp healthy. "All [oils] improve shine and texture and add nutrients to hair and scalp to strengthen roots, reduce hair breakage/split ends, and increase hair growth," Dr. Bridges says.
Certain oils can also address individual concerns that could also contribute to hair looking limp or thin. For example, tea tree oil can help with dandruff and help with hair growth if your hair follicles are plugged. This will also help hair look shinier overall. Many ingredients can be purchased individually or found together in serums and oils.
Dr. Bridges also notes that for more severe hair loss, you should consult a doctor. Often, hair loss can be a symptom of larger problems like a thyroid disorder or vitamin deficiency. A more comprehensive approach under a doctor may be able to address hair loss or thinning as well as the underlying issues causing it. For more minor issues with hair thinness or loss, however, these oils can help.