7 Whisks That You Need In Your Kitchen, Including A Few You Didn't Know Existed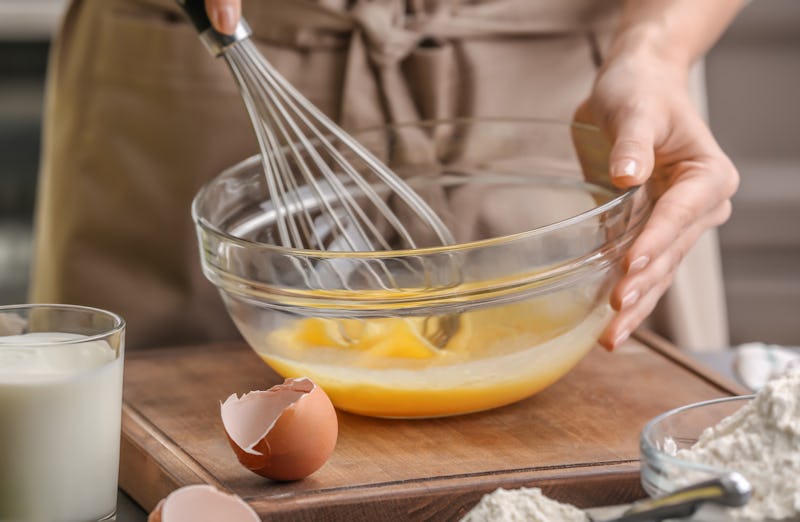 Africa Studio / Shutterstock
A whisk is a vital tool for anyone who spends time in the kitchen, and the best whisks make it easy to whip up eggs or deglaze pans. But whisks come in many shapes and sizes, and different styles are ideal for different uses:
If you're going to own just one whisk, make it a balloon whisk. It's an all-around fantastic option for mixing dry ingredients and whipping air into wet ones. It's also the type most people think of when they hear the word "whisk," but it's not necessarily the best option for every whisk-related task.
A French whisk, also known as a straight whisk, has a narrower design and is best used for stirring and smoothing out ingredients.
A flat whisk, or a roux whisk, is particularly helpful when deglazing pans and making sauces.
Dough whisks are made for blending thicker ingredients to make doughs for foods like bread, pizza, and pasta.
Easy-to-clean ball whisks have recently become popular for mixing dry and liquid ingredients, particularly when using a flat pan or one that has corners.
Finally, mini whisks will fit better in small containers and are great for whisking up small batches of ingredients without splashing.
As far as materials go, most whisks have stainless steel wires, but some are coated in silicone in order to protect nonstick pots and pans from scratches. Take a look at the handle of the whisk, too — some are made of stainless steel and are heat-proof (albeit potentially hot to the touch if you aren't careful), while some are made of plastic and may melt if left in contact with a hot pan. Wooden handles won't melt or get hot too quickly, but they may not be as durable. Depending on your cooking style, you may prefer one handle material over the other.
From egg beating to dough mixing, the best whisks can help you tackle any mixing task in the kitchen — and they're all available on Amazon.