These Heels Are Comfortable To Stand In All Day — & Your Feet Will Thank You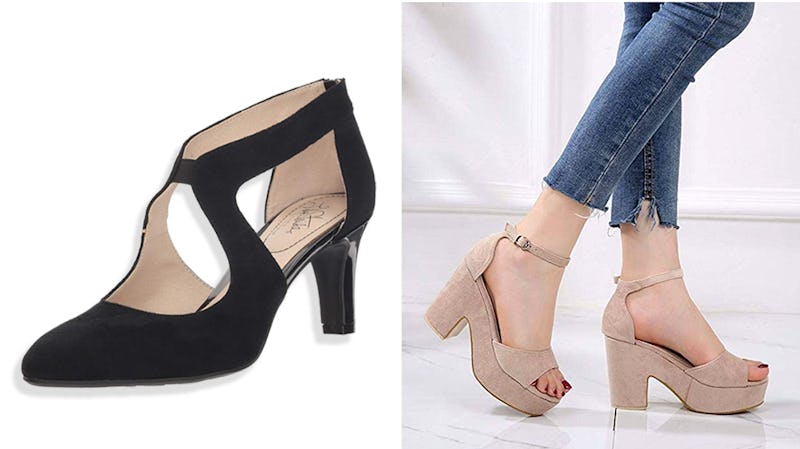 Amazon
The idea that high heels must always be agonizingly uncomfortable is a myth (sorry flats!). In fact, non-torturous heel options abound — and, these days, the most comfortable heels for standing all day are available in styles that are swoon-worthy rather than cringe-worthy.
So, what makes a heel feel a step above the competition when it comes to wearability? Shoes with cushioned insoles (ideally foam) is a key factor. Luckily, a lot of mainstream brands are incorporating it into their dress shoes, and some even offer sculpted footbeds that create more support. You'll also want to consider opting for shoes with a thick outsole — preferably one made of rubber — to help absorb sock. Another great thing to look for: ankle straps, since they can be adjusted for a more personalized fit.
In terms of heel type, look for block heels, since their wider base makes them more stable and more comfortable than stilettos. Wedges are even more sturdy thanks to their full contact with the ground. A stiletto can be comfortable for long periods of time, but that depends on your foot training. If you're used to wearing flats, it's probably not a good idea to spring for a 3-inch stiletto — instead, work your way up. Platforms reduce the difference in height between the ball of the foot and the heel, so they can make a higher-looking heel feel much shorter. Kitten heels are another way to get the formality of a heel without the perilous height.
All of the picks below have comfort featured built in and come backed by many satisfied Amazon reviewers.