7 Insoles And Orthotics That Users Personally Recommend For Comfier Feet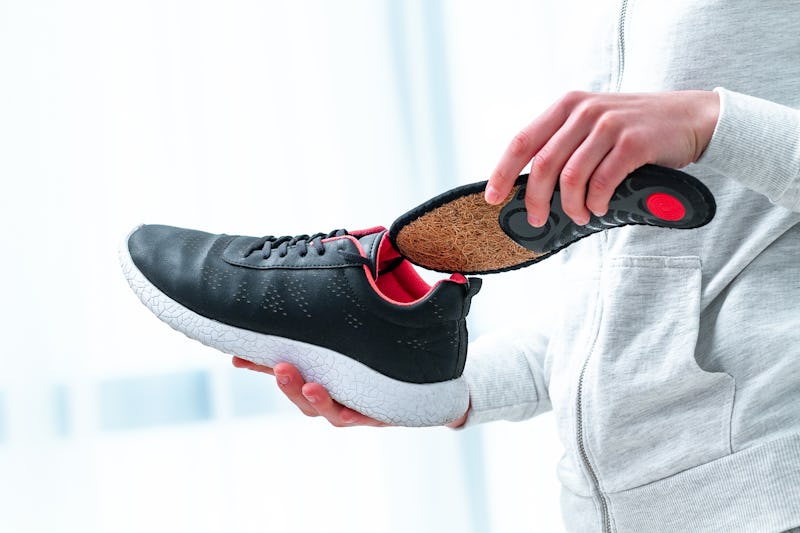 goffkein.pro / Shutterstock
Insoles can make all the difference when it comes to the comfort level of your shoes. They can add warmth, provide extra support (especially if you have a medical condition that affects your feet), and just generally make shoes fit better. That means practically anyone can benefit from wearing them — but with tons of different choices available, finding the most comfortable insoles can be a bit overwhelming. To help you out, Ashley Wood, RN, BSN, and author of Demystifying Your Health gave Bustle the full rundown on how to find the best insoles — and I used her advice to select some great picks to keep you comfortable while you walk, run, and stand.
Before you make a purchase, here's what you need to think about:
Identify your needs
First and foremost, it is important to choose insoles that address your specific needs. According to Wood, "Insoles make shoes more comfortable because they provide the support to the area of your foot that needs it." For this reason, if you experience a lot of heel pain, look for an insole that provides plenty of padding in that area. If your feet are perpetually tired from standing, a foam insole with extra cushioning should keep you comfortable all day long. For exercise enthusiasts, Wood suggests an insole that offers a combination of flexible support and shock absorption. And finally, if you're trying to improve the fit of a too-big pair of shoes, Wood recommends a low profile insole that has "a layer of foam cushioning" to help reduce the extra space and create a snugger fit.
Know your arch type
Some insoles take the shape of your foot into consideration. Insoles can sometimes be designed specifically for one of the three arch types (low arches, neutral/medium arches, or high arches), so it's important to know where yours fall so that you can pick an insole accordingly.
Choose a material
Insoles can be made from a number of materials, but foam is very common and often cheapest. Wood has plenty of good things to say about this material — specifically that it "is naturally shock absorbing, rigid and always dependable," making it a great pick for "cushioning, support and pressure relief." Only potential problem? Foam tends to wear down quickly, though memory foam can last a bit longer than other types and molds to your feet for better comfort.
Gel insoles are another popular pick and are really good for shock absorption. Wood says gel insoles are great when you want to "increase grip, stop slipping and relieve pain, especially in the balls of your feet." Leather and cork are other insole material options that provide some cushioning, but are far less common.
Find the best fit
Another thing to keep in mind is that an ill-fitting insole is definitely not going to be comfortable. Make sure that the insole you purchase is sized correctly for your feet. Insoles are usually measured in shoe size and each insole size typically covers a range of shoe sizes (like women's sizes 8 to 10, for example). Full-length insoles are often trimmable, so that you can achieve the perfect fit even if you're between size ranges.
It also matters that the insole fits inside the intended shoe. Insoles designed specifically for heels, for example, tend to be thinner and narrower, and standard insoles likely won't fit inside a pair of pumps.
Insoles come in a wide range of price points, but Wood counsels that "You don't have to buy the most expensive insole to get the best product." It's all about finding the one that is right for you.