7 Scenes From The 'It' Book That Will Give You Seriously Messed Up Nightmares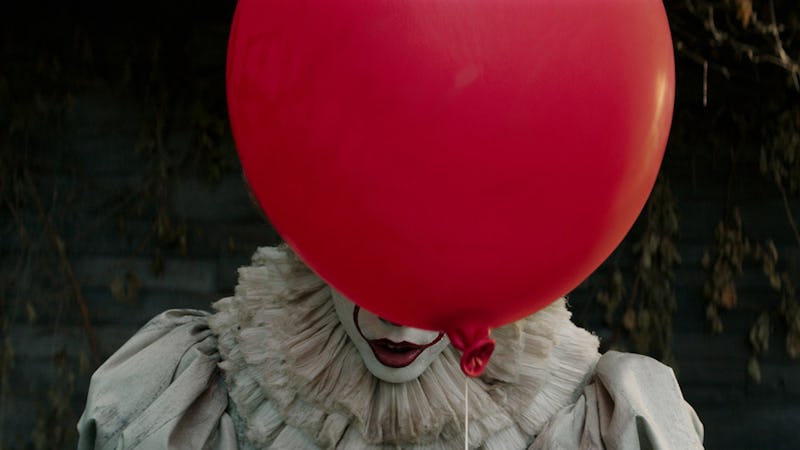 Warner Bros. Pictures
Please raise your hand if you've ever been personally victimized by Stephen King's It. My first exposure to Pennywise the Dancing Clown (and the beginning of my subsequent coulrophobia) was when I was an ACTUAL INFANT. That's right, my father decided to watch the miniseries version of It with me when I was a baby, apparently not realizing that it would scar me for life. To make absolutely sure that I would remain traumatized by clowns and giant spider-creatures for the rest of my days, he proceeded to sit me down to watch it AGAIN when I was seven. Somehow my mom resisted strangling him (an actual miracle considering I slept with the lights on for like a week), and now watching It is one of my favorite bonding activities with my dad.
Obviously, my dad and I are extremely excited about the new movie version of It, starring Bill Skarsgard as Pennywise. Like, so excited that my dad just keeps texting me clown emojis, which is kind of sweet and kind of weird. With just a few weeks to go before the film's released, I decided that now would be a good time to reread the book. Yup, all 1,100+ pages of it.
Reading Stephen King's It is definitely a bit of an undertaking. More importantly, it's also a completely terrifying experience. This is, hands down, the scariest book I've ever read. I had two nightmares before I was even 300 pages in. King is known for being the master of creepy, but, having read a number of his novels, I think It goes beyond any horror novel I've ever read. If the new film is even half as scary as the book, I'll still be sleeping with the lights on for a couple of days.
It by Stephen King, $13, Amazon
If you don't think you'll be able to tackle It before the movie comes out, I'll save you some time. I've compiled what I think are the seven scariest scenes in Stephen King's It. Read at your own risk; I'm not taking the blame for your nightmares.