Looking For A Workout For Your Feline Friend? Check Out These 8 Cat Toys For Exercise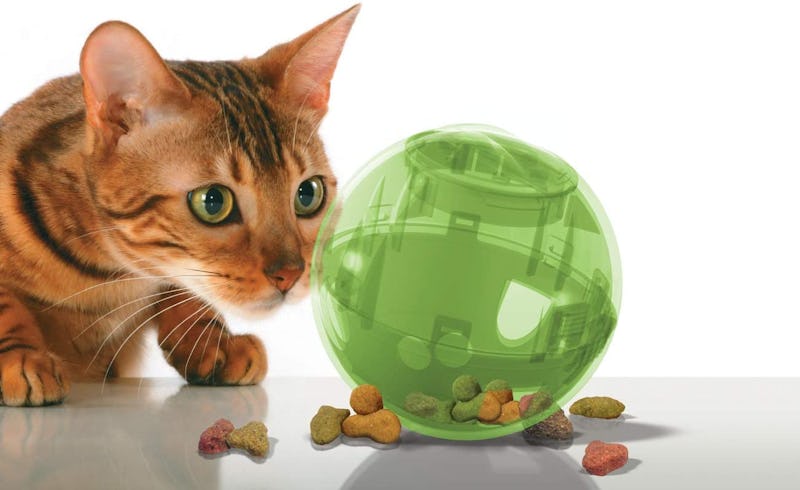 Whether you have a playful kitten, an older cat that lounges all day, or a kitty dealing with weight-related health issues, the best cat toys for exercise will encourage your feline friend to be active. And keeping your cat active is key: It can help prevent conditions like diabetes while also keeping your cat from getting bored (essential if you want to prevent overeating and behaviors like scratching the furniture). Here are several kinds of cat toys that encourage exercise:
Catnip toys will stimulate a burst of energy in your cat that lasts for about 10 minutes, which is a great way for your cat to quickly get some energy out. Keep in mind: Not all cats respond to catnip, and you won't be able to tell until your kitty has reached about 6 months of age.
Interactive toys get you and your cat playing together, which encourages fun and bonding.
Food-dispensing toys are perfect for cats that tend to eat too quickly, which can lead to overeating and indigestion (and might leave you having to clean up messes on the floor). While encouraging cats to eat more slowly, they also get some exercise while they're at it.
Hunting toys gratify your cat's hunting instincts. These can take the form of ball toys they can bat and swipe, electronic cat toys that keep your kitty entertained while you're away, and lasers that are fun for your cat to chase (and are entertaining for you). Hot tip: Cats tend to get frustrated by laser toys when there's nothing physical to catch, so you can make laser toys more rewarding by finishing playtime with catnip or an interactive toy.
By incorporating some of these cat toys into your kitty's daily routine, you can help them stay physically and mentally healthy, while relieving boredom and stress that can lead to unwanted behaviors.
We only recommend products we love and that we think you will, too. We may receive a portion of sales from products purchased from this article, which was written by our Commerce team.