A Hyper-Specific Guide To The Best Drugstore Moisturizers For Dry Skin Of All Kinds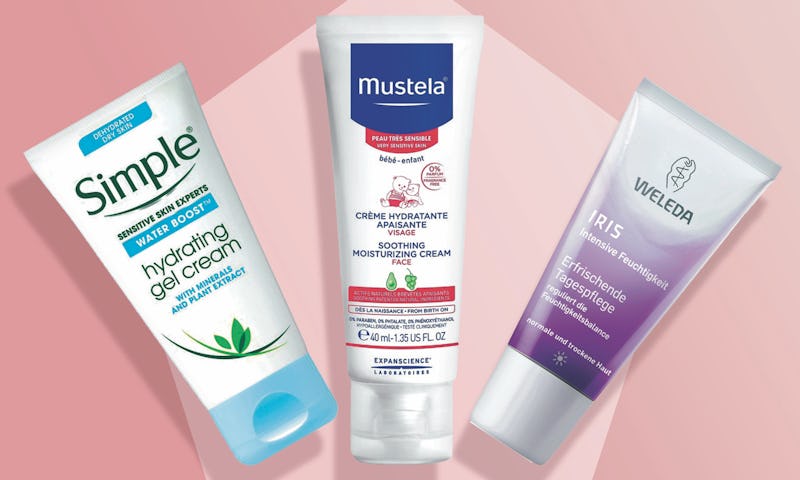 Amazon/Bustle
There are certain beauty products that warrant spending a lot of money on: serums, chemical exfoliators, face masks; foundation and lipsticks. But here's a secret: when it comes to moisturizers, drugstore formulas typically work just as well as their prestige counterparts. At the end of the day, the hydrating ingredients found in most face creams are the same. The rest of the time, you're likely just paying for brand names and packaging. So when it comes to finding the best drugstore moisturizers for dry skin, you're in luck. There are countless formulas to choose from that don't cost a ton of money and are just as effective as most fancy brands.
Though you can find tons of great skin care products in independent pharmacies and the Whole Foods beauty aisle, Amazon has an even bigger selection of typically hard-to-find drugstore moisturizers. You can get your hands on amazing, low-cost formulas from clean beauty companies and French pharmacy brands that you probably wouldn't be able to buy at your local corner store, for example.
When shopping for a face cream for dry skin specifically, it's all about hydration. Cream formulas will be preferable to gels, since they tend to be less moisturizing. Sulfates, which can be both irritating and drying, are a major no-no for dehydrated skin. Also, I tend to think it wise to steer clear of synthetic fragrances, no matter your skin type. With products you're slathering on your face daily, the cleaner, the better — and luckily, drugstore brands have gotten the hint, with more gentle, non-toxic moisturizers available at accessible price points than ever. Because of my strict criteria, all of the options on this list are suitable for sensitive, reaction-prone skin.
Below, eight of the best drugstore face creams for dry skin.