These Reliable Kitchen Timers Are The Secret To Perfectly-Cooked Recipes Every Time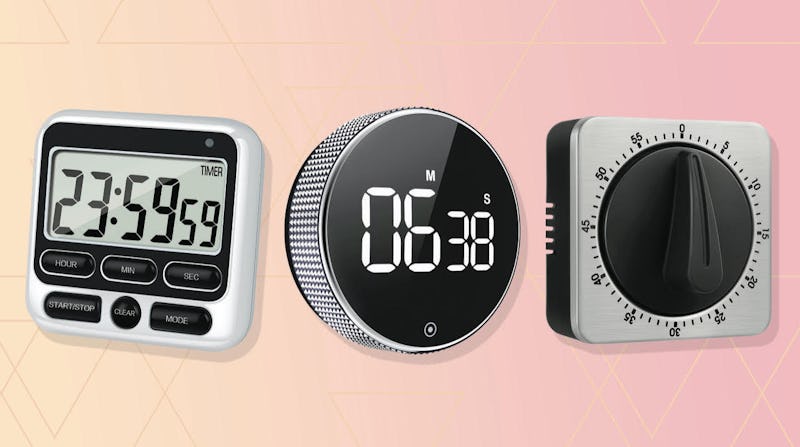 Bustle/ Amazon
Timing is everything when it comes to cooking and baking. Just a few minutes can be the difference between a great meal and a burnt mess. That's why the best kitchen timers are not just simple to use, they also have a loud, unmistakable chime that alerts you when it's time to flip your meal or take food out of the oven.
When shopping for one, you can narrow the options down by deciding whether you want a digital or mechanical timer. Digital timers have the advantage of big, easy-to-read LCD or LED screens, as well as other features that might be desirable, like the ability to be used as a stopwatch or a clock. Meanwhile, with a manual timer, you'll never have to worry about replacing batteries, since this type of device can be powered with a simple turn of the dial. Interestingly enough, you'll find that both styles— mechanical and digital— are fairly affordable, but you'll end up spending more if you want a digital version with more features (like a dual timer option).
Beyond that, you can consider a potential kitchen timer's placement options. Some timers can be propped up on a countertop with an attached stand, stuck to a magnetic surface like a refrigerator or range hood, or hung up on a wall with a hook.
Scroll down below to find the best kitchen timers you can buy on Amazon. They start at just $6 and will help ensure you never overcook anything again.
We only recommend products we love and that we think you will, too. We may receive a portion of sales from products purchased from this article, which was written by our Commerce team.