If You Struggle With Rosacea, These Moisturizers Can Help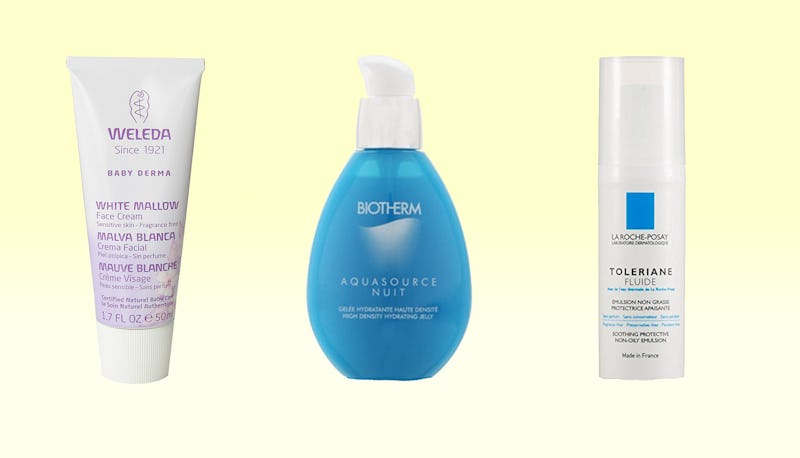 Amazon / Bustle
Redness is a common, treatable skin issue that happens for many different reasons, but rosacea — a condition that affects somewhere near 16 million Americans — is when that redness is chronic and caused by an underlying issue with blood circulation. The best moisturizers for rosacea can't cure it, but they can help soothe the area and eliminate the acne, bumps, sensitivity, or inflammation that comes with it. As with any most other skin conditions, there are ways to treat flare-ups and ways make them worse.
First, when choosing a moisturizer, consider your skin type. Why? It's unlikely that any over the counter product will claim to help rosacea since, technically, they can't. According to Dr. Patricia Ceballos of Schweiger Dermatology Group in New York, "People with rosacea have particularly sensitive skin which tends to be on the drier side of normal. It also tends to be hyper-reactive to certain ingredients commonly found in cosmetic products, moisturizers, and cleansers." She then adds that, "In general, products containing alcohol, fragrance, and parabens should be avoided," and lists argan oil, hyaluronic acid, niacinamide, and antioxidants like Vitamin C as ingredients to look for. Similarly, Dr. Ceballos says that "astringents and other drying agents are best avoided."
To generalize, this means that if you have rosacea, you likely have dry, sensitive skin and should avoid treating acne topically even if you have it. Instead, choose gentle, chemical-free formulas and products that reduce redness. If you're still confused about your options, try one of the eight moisturizers on this list. They're all gentle and contain ingredients that can help keep any unwanted rosacea symptoms at bay.