Do Better For The Environment — And Your Health — With These Organic Shampoos And Conditioners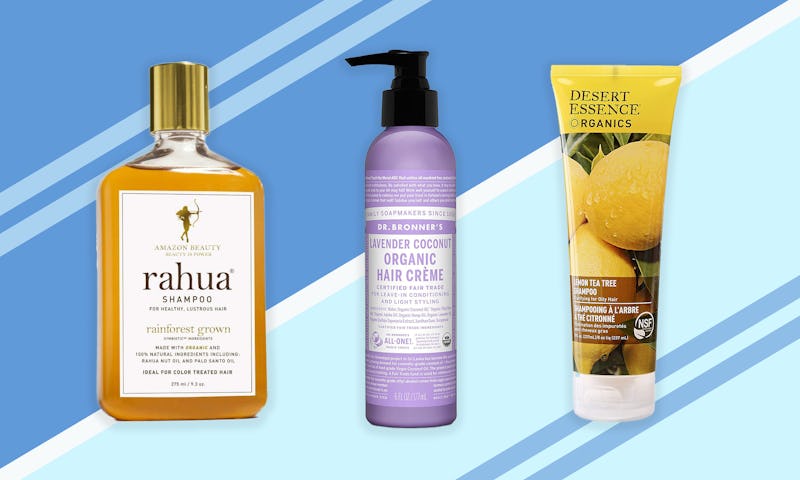 Amazon/Bustle
Buying organic and sustainably-sourced beauty products allows consumers to purchase formulas with ingredients they can pronounce, trace back to the original source, and hopefully, consume more consciously in order to push companies towards ethical production of their stock. Hair care products are, of course, no exception, which is why it's well worth investing in a couple of bottles of the best organic shampoos and conditioners.
Unfortunately, when it comes to labeling beauty products as "organic" or "natural," there isn't a real industry standard for what those words actually mean. Some companies will put the exact percentage of natural ingredients found in the product on the packaging, while others will use "natural" as a cop-out to make products that may be completely water-based and ineffective — though technically natural since it's, y'know, water — seem more attractive to consumers. However, when a product is labeled "USDA organic," that means that at least 95 percent of the ingredients are considered organic... though even the meaning of that word here is relatively ambiguous.
Regardless, we made sure that more than half of the products on this list are USDA-certified organic. Though a couple are not, they come pretty darn close — or are doing everything else right when it comes to sustainability — which is why they made the cut.
Whether you're searching for an organic clarifying shampoo or some all-natural products for curly hair, you'll find it, below — and thanks to these brands' health-conscious formulations and sustainable efforts, you can feel so much better about your purchase.