These Lip Liners Go With Any Lipstick — & They'll Enhance Your Natural Lip So Well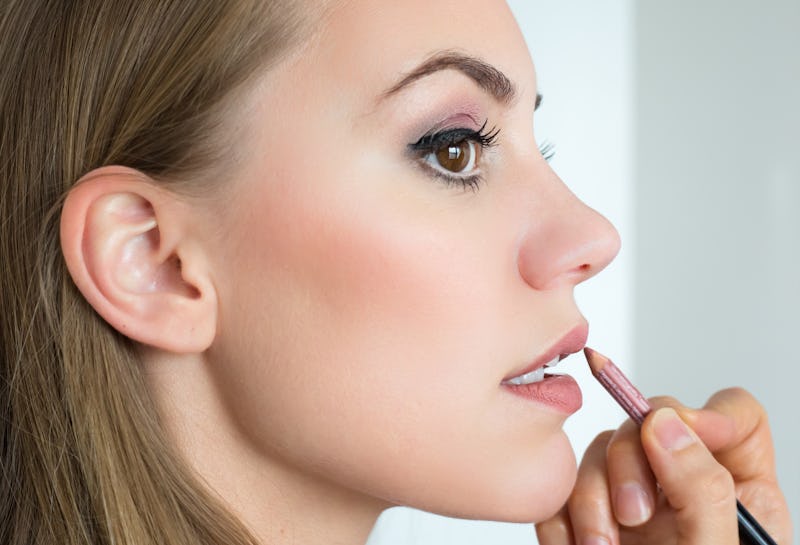 Shutterstock
For many people, lip liner can seem like an unnecessary extra step, but it's an unsung hero in your makeup kit. A lip liner that goes with every lipstick — even if that's a tinted lip balm — is the equivalent of having a good strapless bra in your wardrobe. It provides shape and definition, and even though you may not use one every day, you're usually grateful to have one on-hand for those occasions you do.
To find a versatile lip liner that can go with any of your lipsticks, you can first consider invisible lip liners, which are an underrated option that not only (literally) go with every lipstick but keep color from feathering when used to outline. A neutral lip liner that goes with your skin tone (more on that later) will be able to enhance your natural lip and complement almost any shade you have as well. Lip primers are another option; they provide an even base for brighter lip color and help them stay locked in place with absolutely no lining necessary.
But, if you're looking for a colored lip liner that will go with all of the lipsticks in your beauty arsenal, first you need to identify your skin's undertones to help you pick a lip product that complements your natural coloring. There are three basic undertones:
Warm: This means your skin has golden, peach or yellow tones. If you follow the "vein test," people with warm undertones usually have greenish veins, and in terms of tans, you're more like to bronze than burn. If that's you, look for colors that are red or orange-based (think cherry red, terra-cotta,).
Cool: Those with cooler undertones have skin that often skews pink or bluish. Following the vein test, you're likely to see blue veins, and when it comes to the sun, you're likely to burn. Look for lip colors that have blue-based hues (think plum, berry).
Neutral: This skin type is a balance of warm and cool. Your vein color may be hard to decipher, but might be bluish green. Since neutral skin undertones have more versatility, you need to try out different warm and cool tones to see what works best for you.
Whether you want to spring for an invisible liner or a bold hue that works with your skin tone, you're sure to find an option below that you will fall in love with.
We only recommend products we love and that we think you will, too. We may receive a portion of sales from products purchased from this article, which was written by our Commerce team.