How To Dye Your Own Hair, According To A Hairstylist — Plus 9 Best At-Home Hair Colors On Amazon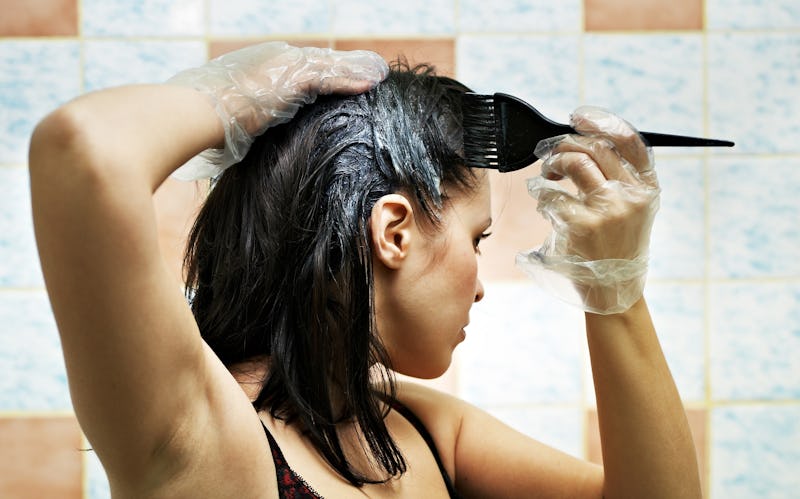 Shutterstock
As someone who has been coloring her own hair for a decade, I can attest that it can be a fun, self-care ritual, rather than a hair-frying, nerve-wracking one. The trick for me has been to figure out exactly what I need (gray coverage, blonde but no brassy tones) and find the best at-home hair dyes that work for my hair type.
To help you find the best way to color your own hair at home, I researched the best dyes for different hair needs and reached out to Makenna Smith, a professional hairstylist in Raleigh, North Carolina. Here's what she had to say:
Tips for going lighter: "It's important to have virgin hair that has no color on it," Smith says. She also recommends looking for words like "ash" or "cool" to avoid brassy tones.
Tips for going darker: Colors tend to come out darker than they seem on the box. "Start with a shade that matches your natural hair color. This allows you to see how the color takes and you can always go darker," Smith recommends.
Tips for choosing a shade: Smith suggests to her clients that they use their skin tone as a frame of reference for picking the right hue. Oftentimes, she suggests they look at their veins to help them pinpoint their undertone, which is typically divided by warm, cool, or neutral. "If your veins have more of a blue tinge, you will look best in neutral, cool, or ash tones. If your veins look more green, you will look best in warm browns, gold, and copper tones."
If you can't quite pinpoint your vein color, another helpful trick, according to the at-home hair color experts at Clairol, is to put on earrings or a necklace and look in the mirror: "Cool tones tend to look better in silver jewelry while gold compliments warm tones." And if you really think you look good in both metals (or have both green and blue veins), you could be neutral, which means you'll look good in most colors!
Tips for gray coverage: "Chemicals are the name of the game when it comes to gray coverage," says Smith. Dyes that are ammonia-free, though safer to use, are not your best bet if you're mainly looking to cover gray hair.
Application tip: "The hairline grabs color more densely, so unless you're covering a large amount of gray hair, apply color to the hairline last," Smith suggests. This is especially true if you're going red.
With these pointers in mind, check out my picks for the best at-home hair color, which include options for touch-ups, those with skin sensitivities, gray coverage, and the top picks for blondes, brunettes, and redheads.