The 9 Best Serums For Oily Skin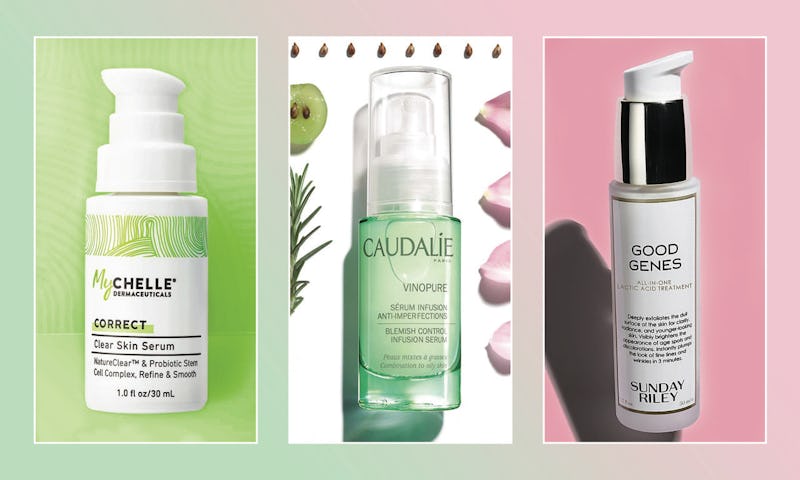 Bustle/Amazon
Ask anyone — a beauty editor, a dermatologist, an aesthetician — and they'll likely tell you that serum is the most important step in any skin care routine. That's because they're highly concentrated, targeted treatments made up of teeny tiny molecules, which basically means they can penetrate your skin (and do their job) much more effectively than, say, a moisturizer. But finding the best serum for your skin type requires a fair amount of research, and it's crucial that you use the right one. For this article's purposes — to narrow down the absolute best serums for oily skin — Bustle spoke with Dr. Kenneth Howe, a board-certified dermatologist practicing at Wexler Dermatology in New York City.
"Serums are great for oily skin because they are such lightweight preparations," points out Dr. Howe. "Many serums are water-based rather than oil-based, and so are a better match for skin that's already oily." As for what to look for in terms of formula? Try a mattifying serum for daytime use, since they "fight oily shine both by absorbing excess oil as it's put out over the course of a day, and by decreasing oil glands' output." Specific ingredients to keep an eye out for — whether shopping for a day serum or a night serum — include clay extracts, which Dr. Howe refers to as "an age-old, time-tested remedy for overly oily skin [since] the natural minerals soak up excess oil." Similarly, "Botanicals like ginger root or meadowsweet extracts work to decrease activity of oil glands."
If you're unsure of which type of serum to use during the daytime, and which type to use at night, Dr. Howe puts it simply. "The mattifying serums are meant for daytime use. They absorb excess oil as it's produced over the course of a day. Night? If you're using one of the oily skin serums that doubles as an acne spot treatment — these are the ones that often contain salicylic acid — then you would put that one on at night."
And speaking of acids — which, across the board, tend to be extremely beneficial for oily skin that's breakout-prone — Dr. Howe does have one warning. "A lot of serums intended for oily skin contain salicylic acid or lactic acid. These are both exfoliating agents — and they're fine, assuming your skin needs exfoliation — but some people are both oily AND sensitive, and those individuals will be irritated by these [kind of] harsh exfoliating acids." So, if you have oily, sensitive skin, use these types of serums with caution. Always do a patch test on your arm first, and start by using them once or twice a week so your skin can adjust to them. If you experience any severe redness or irritation, an acidic serum probably isn't the best choice for you.
With all that in mind, scroll on to shop nine of the best serums for oily skin you can buy right now.
We only recommend products we love and that we think you will, too. We may receive a portion of sales from products purchased from this article, which was written by our Commerce team.
This article was originally published on