From Running To CrossFit, These Kicks Will Turn Your Workouts Up A Notch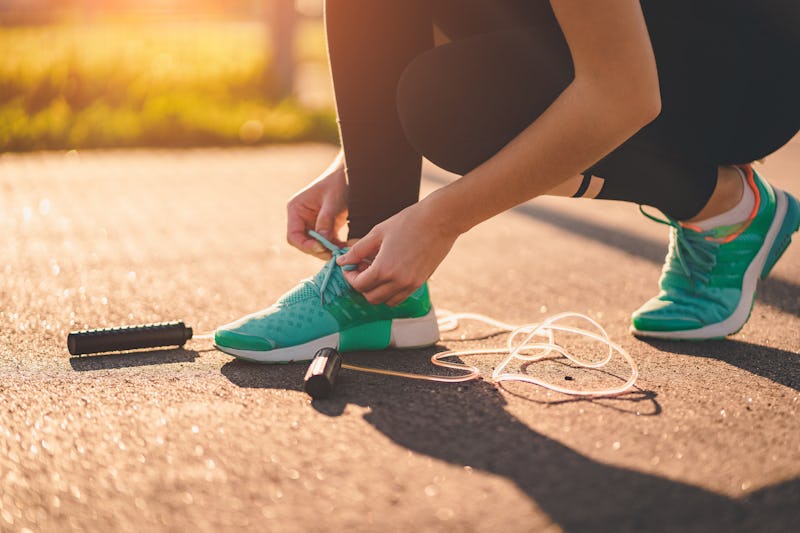 Goffkein.pro / Shutterstock
Whether you're a runner, HIIT class lover, weight lifter, or anything in between, having a solid pair of shoes to wear during a workout is an absolute necessity. And the best workout shoes for women will enhance your fitness routine, so you feel good all workout long. To find the ideal pair of shoes for you, think about these factors:
Functionality: With so many different gym shoe options available, it can be overwhelming to pick the best pair. So it's smart to start by finding a shoe that is functional for the specific workouts that you are doing. For example, if you're really into CrossFit, HIIT, or for cross-training, your best bet is to find a shoe that is stable all around and has really good traction so you can stay super solid while lifting, jumping, and more. On the other hand, if running outdoors is your thing, look for kicks that are designed to log some serious mileage with a thick enough sole that you don't feel every rock on the path.
Comfort: Your shoes need to feel good on your feet, it's as simple as that. Cushioning is one big factor and is especially important if you're wearing your shoes for long distances. Another factor to consider? Fit. Your shoe should not be too tight or too loose. Some workout shoes come in wide or half sizes so you can find your ideal sizing.
Traction: Traction is an important factor regardless of your preferred workout (after all, no one wants to slip and fall). However, if you're doing outdoor or high-intensity workouts, traction is even more important and you should specifically look for this feature in your workout shoes.
To help you on your search for the best workout shoe, here are nine options Amazon reviewers love for a range of different workouts.