Here's One Big Reason To Stick Around During The 'A Star Is Born' Credits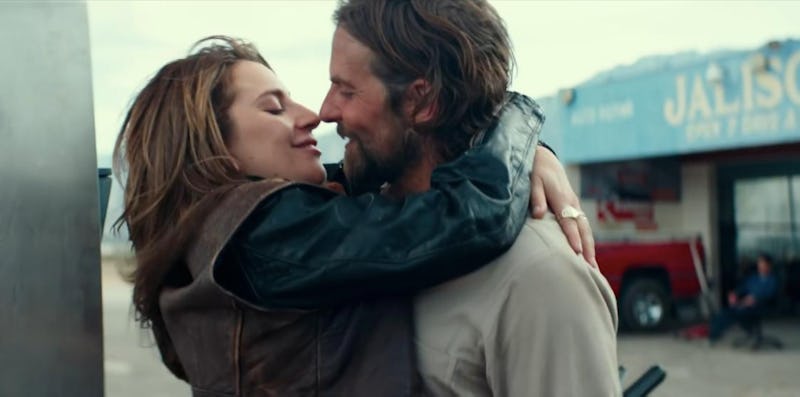 Warner Bros.
Music is absolutely essential to A Star is Born, obviously. And it's jam-packed with songs sung by stars Bradley Cooper and Lady Gaga. You've probably had "Shallow" on a loop since it came out, but the A Star Is Born end credits song is one that probably heard before he soundtrack even came out. The first end credits song is "Is That Alright?", which Lady Gaga shared last month on Twitter along with a short teaser for the film.
It actually makes perfect sense for this track to be picked as the one to end the story. The lyrics are just as intense as Ally and Jackson's romance, with Gaga singing "I want you to look right in my eyes/To tell me you love me, to be by my side/I want you at the end of my life/I wanna see your face, when I fall with grace."
Lady Gaga penned the ballad in collaboration with Paul Blair (best known as DJ White Shadow), Nick Monson, and Mark Nilan Jr. It feels reminiscent of some of her most famous, slower songs, like "Million Reasons" and "Speechless." But this one has lyrics that feel even more vulnerable, showing how much Ally desires Jackson's love and sees him as The One.
What makes this soundtrack so special besides the songs that fit the movie perfectly is the fact that this is sort-of Lady Gaga's first album in a while. This month, it'll be two years since Gaga released her country-infused record Joanne, which showed yet another different side to her.
Despite the songs being specifically written for the film, you can already see glimpses of the artist in the two songs that were released early. Lady Gaga wrote or co-wrote nearly every song in the film, with the exception of "Maybe It's Time" (penned by Jason Isbell), "Black Eyes" (penned by Bradley Cooper and Lukas Nelson), "Diggin' My Grave" (penned by Paul Kennerley), and "Out of Time" (also by Cooper and Nelson).
But part of what makes A Star Is Born feel like an actual Gaga album is that she had two of her previous collaborators join her in writing songs for the film. One of them is the aforementioned DJ White Shadow, who co-wrote many of Gaga's most beloved songs, including "Applause," "The Edge of Glory," and more. For the film, he co-wrote six songs with her, that'll surely feel reminiscent of her other work.
Gaga also reunited with songwriter Hillary Lindsey, whom she co-wrote her hit ballad "A Million Reasons." Lindsey wrote two songs for the film, titled "Always Remember Us This Way" and "I'll Never Love Again," the latter being the last one in the film before "Is That Alright?" plays in the credits sequence. (It plays later on in the credits as well, along with Cooper singing "Black Eyes.")
There has been talk lately of Lady Gaga working on a new album, with Forbes even speculating this summer that Gaga is actually working on six upcoming albums. But this soundtrack actually the perfect one for the artist to release right now. She sings over 20 songs in the film and co-wrote most of them. And while she may be writing from Ally's perspective, much of Ally's own story mirrors her own, making this an expansive project that shows how versatile Lady Gaga's innate creativity and talent can be.