The Absolute Best Places To Find Shoes A Size 10 Or Over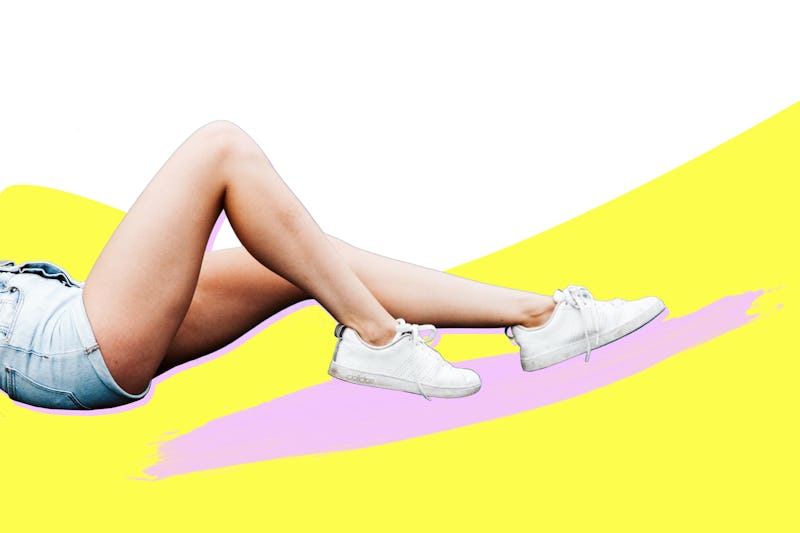 Kristin Mahler/Bustle
There's no version of shopping that isn't at least a little bit frustrating for those involved. If your particular size is less available in stores, this can make the process even more infuriating. Whether you're petite, tall, plus size, somewhere in between it all, or a combination of categories, finding clothes that fit can seem impossible sometimes. Bustle's The Fitting Room took the results of a survey that asked more than 400 people what they thought about shopping, sizing, and the intersection of the two and turned the results into stories that highlighted people's thoughts about shopping. But it wasn't just limited to clothing.
The average women's shoe size is an 8.5, which might not seem that far off from an 11 or 12. But, surprisingly, when you have a shoe size that stretches beyond that average (especially a size 10 or bigger for women) it can make finding a variety of cute shoes pretty darn difficult. Of those surveyed for The Fitting Room, more than 26 percent of participants had a size 10 or bigger foot. Of that percentage, almost 70 percent had a size 10 to 10.5 size foot, while almost 27 percent had a size 11 - 11.5 size foot. A little more than 4 percent reported have a size 12 or bigger foot.
What They Think About Finding Their Shoe Size
Of those with a size 10 shoe or bigger, more than 31 percent said they always had trouble finding shoes in their size in stores. Almost 14 percent said they never have trouble finding shoes in their size, and 56 percent said they sometimes have trouble finding shoes in their size.
Their Favorite Places to Find Shoes That Fit
In terms of in-store shopping, a whopping 51 percent of individuals listed DSW (offers sizes 3 - 16; extra narrow/narrow/wide/extra wide options) as a favorite place to find shoes in their size. This makes sense given if you search the DSW site by size, there are more than 8,000 options for size 10 and bigger — and the sizes go up to a 16. There are also more than 1,200 options for size 12 and bigger.
Other favorite in-store brands listed included Payless (offers sizes 5 -13; extra wide options), Marshall's, TJ Maxx, and Target (offers sizes 5 - 12; wide options). For both in-store and online suggestions, department stores (Macy's, Nordstrom, etc.) seemed to be a popular choice. More than 45 percent of those surveyed said that Amazon was one of their favorite places to shop as well.
Other stores that made the cut were ASOS (offers sizes 5 - 12; wide options) Walmart (offers sizes 3 - 16; wide options) and brand-specific stores like Frye (offers sizes 5.5 - 11) Clarks (offers sizes 5 - 12) Nike (offers sizes 4.5 - 15.5) and Aldo (offers sizes 5 - 11).
Almost 29 percent of those surveyed listed Zappos (offers sizes 3.5 - 20; narrow/wide options) as a good place to find their size. Interestingly, for people with a size 12 shoe or larger, every participant except one listed Zappos as a favorite place to shop. People like choices when it comes to footwear and when you search the Zappos site quickly, it's no wonder people with a size 12 shoe and larger like the site — right now, there are over 7,500 options for size 12 and bigger.
Takeaways
Averages are averages for a reason. And while it's true that the majority of people wearing American shoe sizes might be closer to a size 8.5 than not, that doesn't mean that shoes for people with larger feet shouldn't be accessible everywhere. While The Fitting Room survey proved that there are indeed places that people are going to find shoes that fit them (and it's not like DSW, Zappos, Amazon, and Target are going away any time soon, either) it also proved that the vast majority of women with larger feet always or sometimes have trouble finding their size in stores. And as long as this is the case, brands have more work to do.