The Absolute Best Places To Find Shoes A Size 5.5 Or Smaller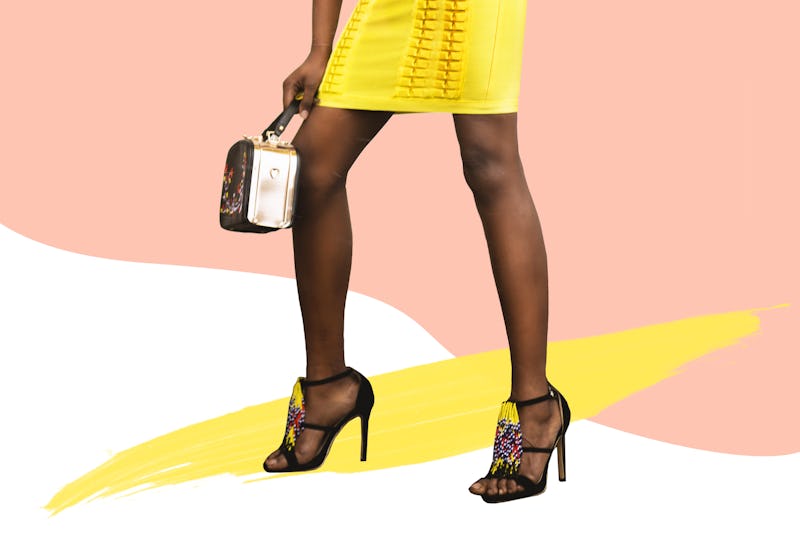 Kristin Mahler/Bustle
Sizing and shopping can often be confusing. But more than that, it can be frustrating, exclusionary, and even upsetting. It's no secret that fashion needs to be inclusive, but to get an any better picture of people's thoughts on shopping, sizing, and the intersection of the two, Bustle surveyed more than 400 people about their experiences with clothing. Through questions about finding clothes that fit, Bustle ended up with hundreds of opinions on the best places to shop for certain body types, people's biggest pain points while shopping, and more. All of these answers came together in The Fitting Room, a package of stories that explore all of these people's thoughts and suggestions about shopping.
However, we didn't just stop at clothing sizes. We also asked respondents what their shoe sizes were, where they like to shop for shoes (both in-store and online), and if they've ever had trouble finding shoes for them... and (spoiler alert), many of the respondents did have some difficulty.
Among the many individuals who've admitted to struggling to find shoes that fit their sizing needs, the group that seemed to have the worst luck of all were those that wore a 5.5 shoe size or smaller.
In this piece specifically, Bustle has collected statistics from this small group of ten people to learn about their challenges, preferences, and more.
What They Think About Finding Their Shoe Size
Out of the ten individuals, only three (30 percent) admitted to never having difficulty finding shoes in their sizes. Out of the remaining seven people (70 percent), five of them said they always have trouble, while two of them said they only sometimes experienced challenges when shoe shopping.
Their Favorite Places to Find Shoes That Fit
Shoe shopping in-store versus online makes a big difference in the experience all together, especially those with not-too-common sizes.
When buying online, you have no idea how the shoe will feel, how comfortable the material is, and frankly, if it's even the right shoe for you.
So when Bustle asked these 10 respondents what shops they prefer for in-store and online shopping respectively, it was surprising to learn about their experiences as such a niche consumer in a gigantic market — that sometimes feels like one-size-fits-all.
For shopping in-stores, three people said they prefer DSW (offers sizes 4 - 13), seven people said they tend to shoe shop at discount stores such as TJ Maxx (offers sizes 4 - 14), Nordstrom Rack (offers sizes 3 - 11.5; wide/narrow options), and Marshalls (same company as TJ Maxx, offers same sizes), six people chose Target (offers sizes 5 - 12; wide options), another six said they have the most luck at brand-specific stores like Frye (offers sizes 5.5 - 11), Aldo (offers sizes 5 - 11; wide options), or Nike (offers sizes 4.5 - 15.5), and four participants noted that shopping in department stores seemed to be successful. For example, if you go to DSW's website, they have 164 shoes available in a size 4, whereas a site like Aldo starts at a size five. If you go to Frye's website, the smallest size they carry is a 5.5.
When shopping online, however, it's a whole different ball game. Only two people selected discount stores as a safe option for online shopping, compared to the seven who listed them as an option for in-store shopping. Just two people chose DSW.com as a preferred place to shop online, respectively, and only one woman listed Target. However, it's interesting to note that brand-specific stores and department stores were more popular shopping destinations online versus in-store, respectively. Seven woman wrote brand-specific stores were a good place to find shoes online, while six individuals wrote that department stores were good for online shoe shopping.
Takeaways
The survey tells us a lot about how difficult it is for those with smaller feet to shop for shoes, whether it be in-store or online.
It's also interesting on how a retailer's physical location and online website can show such drastic differences in accessibility and efficiency for consumers when shoe shopping — especially those who wear small sizes.