Women Say Matt Lauer Had A Hidden Button To Quickly Lock His Office Door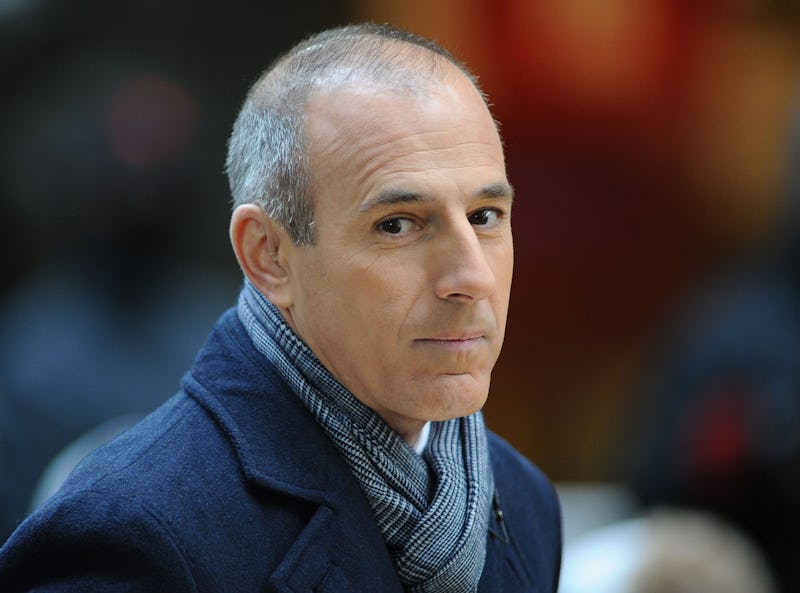 Slaven Vlasic/Getty Images Entertainment/Getty Images
According to a detailed report published in Variety on Wednesday, NBC Today host Matt Lauer was accused of sexual harassment on multiple occasions by different female colleagues, both past and present. Lauer has yet to respond to the allegations; Bustle has reached out to his representative for comment.
NBC had announced that Lauer had been terminated from the network Wednesday morning before the Variety report hit the internet. NBC News chairman Andrew Lack said the network was made aware of the alleged behavior Monday night via a complaint filed by one of Lauer's colleagues.
The female colleague who made the initial complaint against Lauer did not want to be identified for fear of retaliation. Lack described Lauer's alleged behavior as a "clear violation of our company's standards" and added that there was "reason to believe" the misconduct alleged in the complaint was not an isolated incident.
Our highest priority is to create a workplace environment where everyone feels safe and protected, and to ensure that any actions that run counter to our core values are met with consequences, no matter who the offender.
In the Variety report, three women at NBC accused Lauer of sexual harassment on more than one occasion. Please be aware, the following details may be disturbing.
According to Variety, in one instance Lauer allegedly took his pants off in front of a female colleague and exposed his genitals to her. When the colleague refused to engage with him, Lauer snubbed her, according to the source who spoke with Variety. Lauer apparently also had a habit of quizzing female colleagues by playing the popular, vulgar game known as "f*ck, marry, or kill." In playing the game, Lauer would name the female colleagues he wanted to have sex with, according to the report.
Lauer was further accused of maintaining a disturbing fixation on colleagues' physical appearances, according to over 10 sources who spoke with Variety. He also allegedly sent inappropriate text messages.
And additionally, the popular host reportedly had a "button" situated under his desk that locked the door to his office upon pressing it, according to two women who accused Lauer of sexually harassing them. This, according to the two women, gave Lauer carte blanche to do whatever he pleased without getting caught.
Meanwhile, The New York Times reported that NBC had received two other complaints against Lauer. One woman told the newspaper that in 2001, Lauer asked her to come to his office and then had sex with her. She told the Times she felt she couldn't do anything because she didn't want to lose her job.
According to one source that spoke with Variety, people were definitely hesitant to report Lauer out of fear that their careers would get destroyed in retribution. A former colleague told Variety:
There is such shame with Matt Lauer not liking you. I did this special with him and we are traveling and I had a cold sore on my lip and I heard him say to Bryant Gumbel, 'She has this really ugly cold sore on her lip,' like that was something to be ashamed of. He was just really cruel.
The announcement of Lauer's termination was shared on Today by co-host Savannah Guthrie. Guthrie called Lauer a "dear friend," but also said that her heart went out to the "brave colleague who came forward to tell her story and any other women who have their stories to tell." The Today co-host added, "I'm sure we will be learning more details in the hours and days to come. And we promise we will share that with you."
Ari Wilkenfeld, who represents the unidentified woman who filed a complaint against Lauer, said that NBC responded swiftly. "Our impression at this point is that NBC acted quickly, as all companies should, when confronted with credible allegations of sexual misconduct in the workplace," he said in a statement. Wilkenfeld, who is a veteran civil rights lawyer, also added, "While I am encouraged by NBC's response to date, I am in awe of the courage my client showed to be the first to raise a complaint and to do so without making any demands other than the company do the right thing."