Aaron Taylor Johnson Is *Unrecognisable* In Netflix's 'Outlaw King' & I'm SHOOK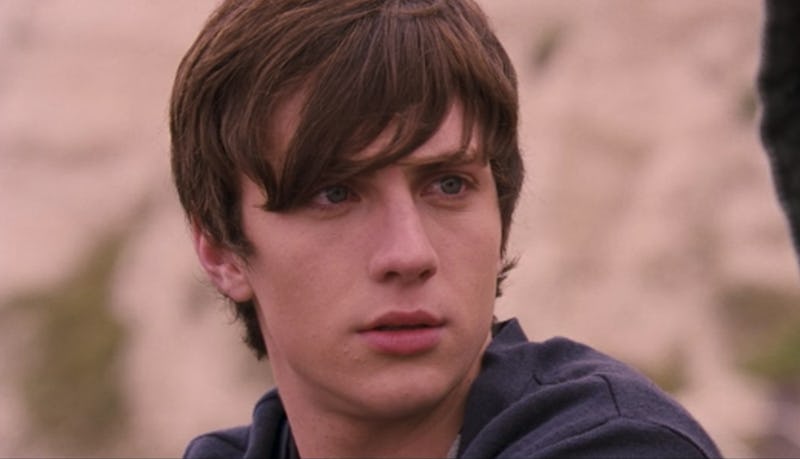 Angus, Thongs & Perfect Snogging/Netflix
If you're looking for a film to warm you this autumn, look no further than Netflix's Outlaw King. While it may not be the first film you'd think of to snuggle up to, it's directed by David Mackenzie and stars a trifecta of talent and beauty in the form of Chris Pine (Star Trek, Wonder Woman), Florence Pugh (The Falling, The Little Drummer Girl), and Aaron Taylor Johnson, who is the actor playing Douglas in Outlaw King. Taylor Johnson's role as legendary Scottish knight Sir James Douglas is a bit of a departure for those of us who grew up watching him in a different type of film altogether. So who is Aaron Taylor Johnson, and why does he make me feel strangely nostalgic?
Well, it's all thanks to a little British film released in 2008 that you may or may not have heard of... Angus, Thongs and Perfect Snogging. Yes, ladies and gentlemen, Aaron Taylor Johnson portrayed "sex god" Robbie Jennings aka the man of everyone's dreams in secondary school. I know, I'm swooning too.
But believe it or not, that was ten years ago. While I'm sitting here reminiscing about my early teens and the daunting reality that I am now an adult, Aaron Taylor Johnson has crafted quite the filmography since his days of stealing hearts as Robbie. Since then, the 28-year-old has portrayed a young John Lennon in Nowhere Boy, a murderous antagonist in Nocturnal Animals, and portrayed not one, but two superheroes in Kick-Ass and The Avengers: Age of Ultron. Talk about a résumé. But it's his role in Outlaw King that has him looking most different. I mean seriously, how is that the same person?
Angus, Thongs and Perfect Snogging may have jump-started Johnson's career somewhat, but it didn't all start there. Born and raised in Holmer Green, a village just outside of High Wycombe, the actor began his career at age six where he appeared in a Persil advert and also had small roles in Casualty and The Bill, according to the Guardian. Y'know, those shows that you only caught the beginning of growing up because of early nights.
It was his love of acting — and a yearning to escape the village he grew up in — that spurred him on to continue working as an actor, which would eventually land him his first feature film role alongside Sean Bean in Tom & Thomas at age 12, and he certainly hasn't stopped since.
Johnson's passion for acting has also wrapped up into his personal life, as he met his now wife Sam Taylor-Johnson while working on the Lennon biopic Nowhere Boy, which she was directing. "I made Kick-Ass just before I started working on Nowhere Boy, and now here I am making Kick-Ass 2 and I'm married and a father," he told The Guardian in 2012. "It's such a major change, but to tell the truth I never think about it much. It just feels so natural to me."
What also feels natural is Johnson's carefree attitude when it comes to his career, and whether he takes critical praise or dismissal of his work to heart. "The movie could suck. It doesn't matter. Because that's not what I was doing it for," he explained to The Independent, referring to Outlaw King. "I wasn't doing it to look good in a movie, or to make the movie be successful, I wanted to go on a journey; to experience what this character went through and to be able to learn from this director."
I mean, isn't that what the art of acting is all about?
Outlaw King is available to stream on Netflix.