This 'SNL' Skit Is Catching Major Criticism For The Way It Portrayed Irish People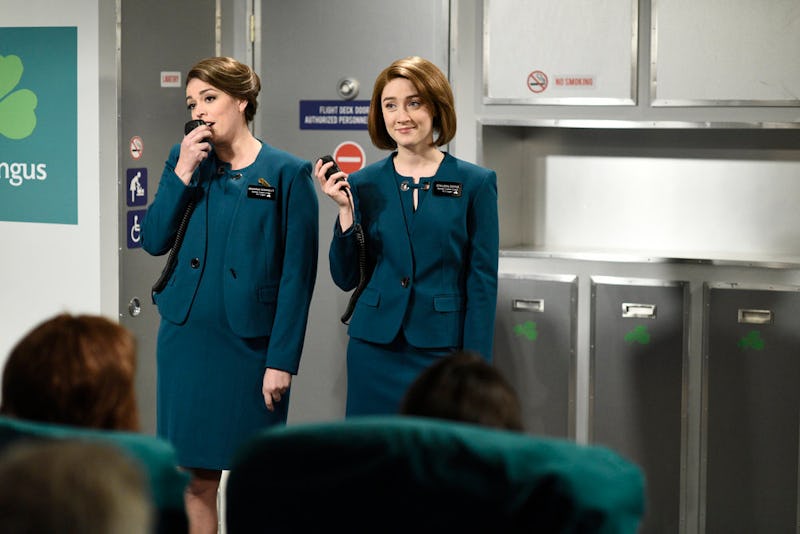 Will Heath/NBC
Saturday Night Live is no stranger to criticism, or for that matter, occasionally angering some of its viewers. Most recently, an SNL skit has drawn criticism for inflating Irish stereotypes. The sketch was centered around the cabin crew of an Aer Lingus flight and featured this week's SNL host, Irish-American actress Saoirse Ronan. But it was chock full of stereotypes about Irish people and a seemingly bizarre reference to dogs.
For those not in the know, Aer Lingus is Ireland's flag carrier airline. The skit began with Ronan and veteran SNL actress Cecily Strong both dressed as Aer Lingus stewardesses welcoming passengers onboard with heavy Irish accents. The two banter about the similarity between the Aer Lingus name and the word "cunnilingus," promising with each joke that "that's the last we are saying about that."
But the sketch then takes an odd turn toward dogs as another airline employee, played by actress Kate McKinnon in an Aran Irish wool sweater, alerts passengers to a dog on the runway. "We've got a dog on the runway. It's got sad eyes and the soul of Oscar Wilde, so we're going to have to wait," McKinnon said. "We're going to let the dog choose when he's ready to move. It's his will. It's his story, not ours." McKinnon's joke is apparently meant to be a play on stereotypes about the Irish's love of dogs and poets.
The skit then dives further into dog jokes with Ronan finding the captain's dog running around the plane. Then another dog is found, and another, and another until the plan is quite literally over run with dogs, all belonging to the plane's captain.
Ronan and Strong then bring SNL actress Aidy Bryant in to riff on how the only thing the Irish eat are potatoes. "We've got fingerling potatoes. We've got purple potatoes, and we got salmon," Bryant informs passengers. "I'm sorry, I misread that. The salmon is also potatoes." Later in the skit, Bryant's character is said to have gotten her fiddle out for some spontaneous fiddle playing in another play on Irish stereotypes.
Aer Lingus responded to the sketch by borrowing a few words from ardent SNL critic President Donald Trump. "Just tried watching Saturday Night Live - unwatchable!" the airline tweeted Monday. "Totally biased, not funny and the Ronan impersonation just can't get any worse. Sad" The airline's tweet mirrored one the president had published about the sketch comedy show exactly one year ago.
Quite a few viewers also turned to social media express their annoyance in how the SNL sketch centered around tiresome stereotypes. "Even by the woeful standards of #SNL, this is dreadful," Donald Clarke, film correspondent for the Irish Times, wrote in a tweet. "No British station would get away with this depiction of the Irish as potato-scoffing eejits. The dire accents? The Arran jumpers? Unbelievable."
For some the sketch fell completely flat. "Sheesh, someone just sent me that snl aerlingus sketchy, bit of a swing and a miss," Irish singer songwriter James Vincent McMorrow wrote in a tweet. "We get it, Irish people like dogs and poetry and potatoes and our accents are funny. Classic."
Others bemoaned the hypocrisy of mocking supposed Irish diets. "The thing that bothered me the most about the SNL skit was the bloody potatoes," Irish author Louise O'Neill wrote in a tweet. "After spending a year in America with acne due to the hormones pumped into their food, my tolerance for mocking Irish diets is low. (At least we don't lace everything with corn syrup. As you were.)"
It's unclear why SNL, or Ronan for that matter, thought the stereotype-heavy skit would be a comedic hit, but viewers appeared overwhelmingly disappointed with it.