Ryan Murphy Just Announced 'AHS' Season 8's Crossover Theme & Fans CANNOT Deal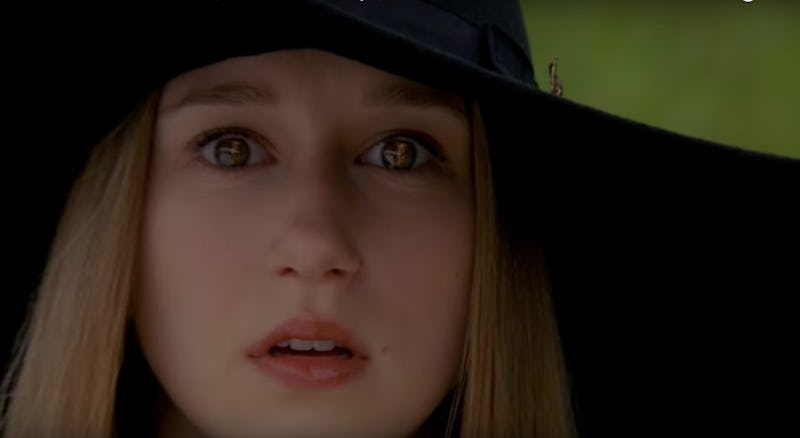 FX
Ryan Murphy has plenty of TV shows to keep fans entertained. But for American Horror Story lovers, the mystery surrounding each season's theme is half the fun. In a June 14 tweet, the showrunner has revealed the American Horror Story Season 8 theme is a a Murder House/Coven crossover, and fans are stoked. AHS will feature this crossover for its next installment, premiering in September, so get ready for all the witchy fun.
American Horror Story: Coven was the AHS franchise's third season, while Murder House was the very first AHS installment. Still, the two seasons have retained plenty of fans over the years. Murder House came when people had no idea what to expect from the AHS franchise, and it had plenty of twists throughout the season. Coven, meanwhile, was the perfect blend of horror and camp. Anyone still mourning the cancellation of Murphy's Scream Queens will surely be excited about the news, too — Coven was the most similar in tone to the more lighthearted series. While there aren't more details available just yet, it's possible that AHS vet (and Scream Queens star) Emma Roberts will be back as Madison Montgomery, and that Taissa Farmiga could reprise her Coven role as Zoe Benson.
Coven took place in New Orleans, while Murder House involved a haunted property in Los Angeles. Could there be some new circumstances that lead the Coven ladies out west? Whichever characters and locations end up being involved, though, there are sure to be plenty of twisty storylines.
Of course, there's also the question of how some of the actors who appeared in both shows might be portrayed in the new season. Farmiga's Zoe, for instance, was one of the women at Miss Robichaux's Academy for Exceptional Young Ladies in Coven. But her character Violet was also one of the key players in Murder House. Jessica Lange and Sarah Paulson also appeared in both seasons, though their Coven characters seem more central to the story.
There's always a chance that the actors could just play both roles — after all, there have been plenty of shared actors across the AHS seasons. Still, it's more jarring to think about things in the context of a crossover, rather than just knowing that more than one of Paulson's characters exists in the same universe.
At least a few actors are confirmed for the crossover season so far. Billy Eichner tweeted on Thursday that he's "very excited to be a part" of the upcoming AHS crossover. And Variety noted that Murphy has already stated that Paulson, along with Evan Peters and Kathy Bates, will be in the new season.According to TVLine, Cheyenne Jackson, Adina Porter, and Leslie Grossman, who've also appeared in previous AHS seasons, will also be in season 8.
Whatever Murphy has in store, though, the announcement is a surprise. As TVLine pointed out, Murphy originally said the crossover wouldn't be season 8, because not all of the actors were available. It's not clear who he was referring to, but it sounds like there will be plenty of familiar faces on the small screen this fall. Connie Britton and Dylan McDermott, who starred in Murder House, haven't tweeted about the AHS news yet, but at this point, anything is possible. McDermott did tweet in January that he might return to AHS "in the near future," and his show LA to Vegas was recently cancelled. For all fans know, Lady Gaga could even return to the series — after all, her Roanoke character was revealed to be the original "supreme" witch.
Murphy's bombshell crossover announcement raises way more questions than it answers. But for AHS fans, that's not a bad thing. All of the details will be worked out in due time — for now, it's just excited to know that the worlds of Murder House and Coven will collide way sooner than fans had originally thought.