A Destiny's Child 7 Day Survival Guide For Ambitious Women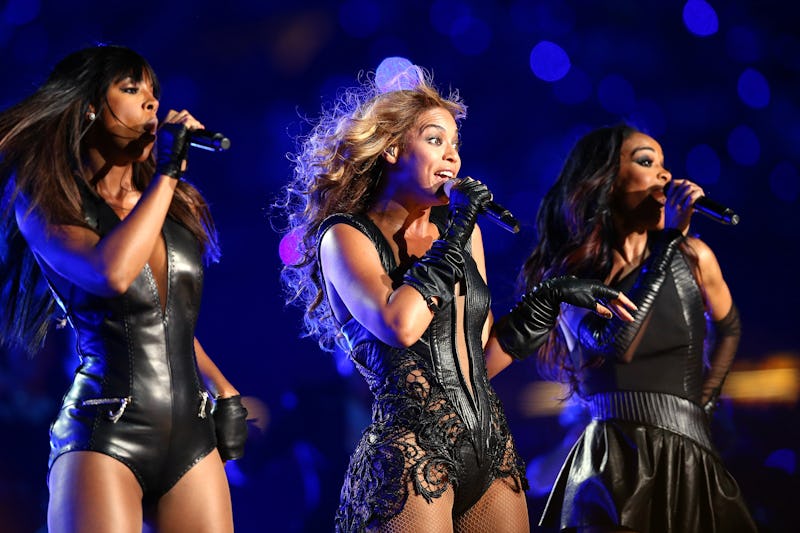 Christopher Polk/Getty Images Entertainment/Getty Images
Thinking of Destiny's Child as the premier girl group of our time isn't just bias, it's factual. Did I mention that Billboard named Destiny's Child number three of the 10 greatest girl groups of all time? From "Writings On The Wall" to "Destiny Fulfilled," we watched their music evolve and climb to the top of charts. Even as the group started to pursue solo careers, they left behind a legacy of womanist anthems with popular singles you probably sang at a karaoke.
For the grownass women who hustle to make the grades and network like nobody's business and still find time to read, dream of building an empire, or work a nine-to-five, Destiny's Child should be at the top of your playlist. Getting ready for work in the morning or before you head out, these songs will remind why it's all worth it; the hundreds of color-coded planners, lists of things to do and late hours all amounted to that promotion, the recognition you wanted or the new opportunity you can add to that resume.
Consider this the background music to your next success story before it happened. And who better than Destiny's Child to offer the melody for every step of the way?
Day 1: Independent Woman Pt. 1
"All the women who independent, throw your hands up at me," is probably the best hook imaginable. If yo`u wake up on that Monday morning needing an extra kick, or something for your morning commute you won't regret playing and replaying this one to tackle the day's responsibilities.
Day 2: Bootylicious
It's only day two, and you're wishing the week would be over already. Tuesday is Monday's twin sister, and can feel just as awful. If you're still waiting on that email, or deciding what to wear to that interview, throw this on and be glad you're one step closer to Friday.
Day 3: Bills, Bills, Bills
OK, now it's time to get serious. It's the middle of your work week, so it's time to buckle down. The single, "Bills, Bills, Bills" is about a woman with things to do, and no time for games. If you need a tip on refocusing, ask yourself, "Can it pay my bills?"
Day 4: Survivor
You finally heard back from that job or internship, and it didn't turn out so well. Or you just signed up for a project that was way more work than you thought. I guess it's time to show them what you're made of. But Destiny's Child is here to tell you, you're a survivor and you got this!
Day 5: Lose My Breath
The weekend is right around the corner, but as usual, there's still a ton to do. You're trying to hit your personal goal, wrap up some last minute budgeting for your next project "Lose My Breath" is the upbeat track to tying up loose ends. If you're a gym-goer, this track can get you through the dreaded morning workout.
Day 6: Jumpin,' Jumpin'
You worked hard, and you should celebrate that often. If you're debating on whether to head out or stay in, this can help you decide. This will inspire you to close your Netflix account, throw on that dress, and send a group text to all your closest girlfriends. You deserve a night out!
Day 7: Girl
Time to reset for another week ahead, and before you start pre planning your week, take a moment. The song is about reconnecting with a friend, but sometimes you just need a moment to do that with yourself. Read that book you failed to open, make yourself that new recipe you wanted to try or go through your morning routine slowly. Today is the day for self-care!
Incorporate these tracks to fast forward a tough week, replay your high moments for a celebration or pushing pause on all of the moving parts. Most of all, you go girl! Go get that opportunity, secure that next client, finish that project or go to that networking event. You may not need the motivation, but nothing is more inspiring than the winning combination of Beyoncé, Kelly, and Michelle vocals over an R&B track.