The 'American Horror Story' Season 8 Theme Might Be Hidden In Plain Sight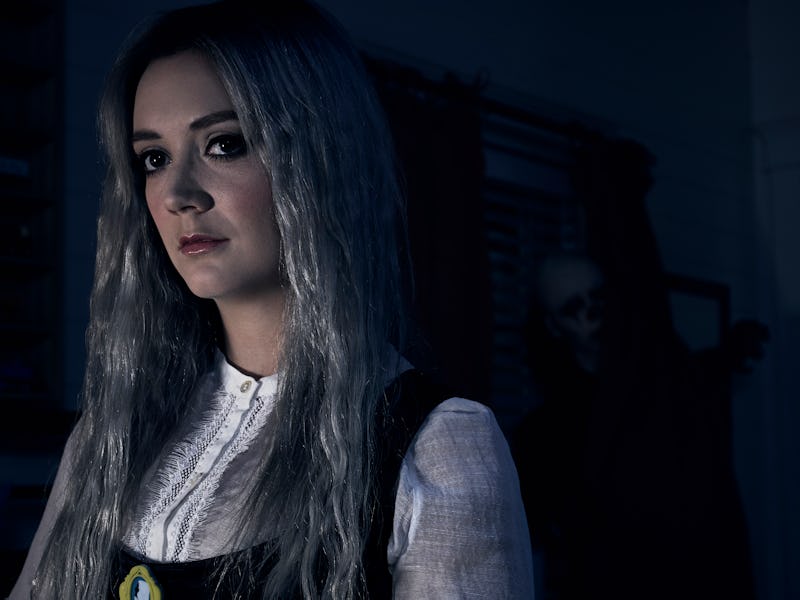 Frank Ockenfels/FX
American Horror Story has taken on an eclectic mix of storylines over these past seven seasons. Viewers have been gleefully tormented by everything from killer clowns and badass witches to cult leaders and haunted houses, and creator Ryan Murphy is clearly full of ideas. What's the theme of AHS Season 8?
While no official theme has been announced yet by Murphy or by FX — and likely won't be until closer to a premiere date, given the aura of mystery that always shrouds upcoming AHS seasons — there are, of course, some theories and clues to consider. If you look back, you can see that the series often leaves subtle hints in previous seasons regarding what's coming up next.
Reddit user SimeonsDilemma outlined some of the early seasons' clues a couple years ago. The user points out that the concept of "sanity" was mentioned frequently in American Horror Story: Murder House, and the following season was Asylum. The songs "I Put a Spell on You" & "Love Potion No. 9" can be heard in the background of certain scenes in Asylum, and the following season was Coven. And that's just to name a few. Many of these references are sneaky, and could easily be dismissed as irrelevant or coincidental, but given how even the tiniest, most seemingly mundane detail has held a lot of meaning in the past, fans aren't letting anything slip by.
Another Reddit user, musain, pointed out that in Cult, there have been several references to war and revolution of some kind. Characters have been throwing around phrases like "the first shots of revolution," "the crown is heavy," and "dawn of the revolution." The user predicted that perhaps next season could be set during the American Revolution, adding that this theme could even open up opportunity for a Coven crossover, as many of those scenes took place centuries ago. And speaking of crossovers, a colonial setting of some kind could also provide a chance for some Roanoke action.
Another possibility could be a setting in the Old West, as pointed out a couple weeks ago by user constance_dangdon. In Cult, characters have been seen holding trains and wearing cowboy pajamas and western-style shirts.
The idea of a historical setting in general seems to be a popular theory among viewers. "I think we're going back to the past [in Season 8]," wrote user Berenbos in another Reddit theory thread. "Or I hope so, at least. We've had three seasons in a row set in the present now, when there is so much stuff in the past that they could cover."
The idea of a season entirely focused on a crossover has also been tossed around, though it's not confirmed just yet. Murphy commented on a Murder House/Coven crossover season at an Entertainment Weekly panel last year, but didn't specify exactly what season it would take place. "It's not going to be next season [Season 7], but we are going to do a season that's a crossover between Murder House and Coven together, which is very bizarre," Murphy said.
Since the creator only specified Murder House/Coven wouldn't come in Season 7, it could be that it's the theme for Season 8. But, Deadline reported that AHS has also been renewed through a ninth season, so there's always the possibility that Murphy holds off on that plan and executes it later. He's already approaching actors from both of those seasons, though, some — like Connie Britton — haven't been recurring cast members since their AHS debuts.
"I've [already] started going to actors from both of the seasons, quietly, saying, 'I think in this window, if you could fit us in,'" Murphy said at the panel, per EW. "So yeah, it's fun. It's weird." Some actors appear in both Murder House and Coven seasons, but play different characters, which could get dicey, Murphy admitted. In another Entertainment Weekly article earlier this year, he teased even further what the season would entail.
"It's a character from Season 1 that will be thrust into the world that you are left with at the end of Coven, which is sort of like the male/female/witch academy," Murphy told the magazine. "And then all of those characters will intertwine, which is confusing because some of them are from Seasons 1 and 3. Like, Sarah Paulson will probably be playing 18 characters." Paulson, one of the series' biggest and most recurring stars (who also won an Emmy for her work on American Crime Story, another Murphy project), confirmed to Adweek last month that she'd be a part of the next season.
Whether next season proves to be the crossover fans have been waiting for, or sees Murphy go a completely different direction, it's clear that his cast and his fanbase both trust him to pull off something we've never seen before.