This One Detail On 'TIME's Silence Breakers Cover Will Devastate You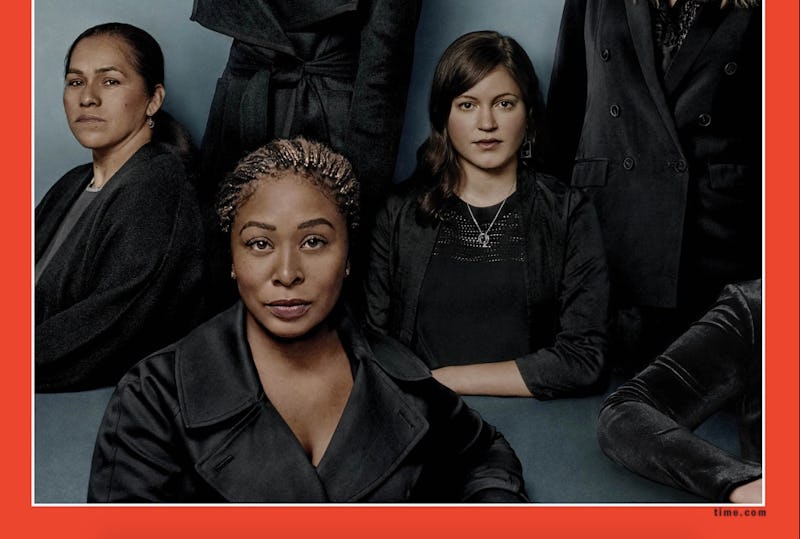 TIME Magazine
"The Silence Breakers" were named TIME magazine's Person of the Year, casting the spotlight on the women (and a few men) who refused to remain quiet about harassment, abuse, and assault. The magazine cover featured five women who spoke up about misconduct in Hollywood, tech, politics, and farm work, along with the elbow of one person who was purposefully cropped out. While the women who revealed their faces symbolize the full impact of the movement, the anonymous "Silence Breaker" represents the women who still feel they can't speak out.
On the right side of the cover that features singer Taylor Swift, actor Ashley Judd, software engineer Susan Fowler, strawberry picker Isabel Pascual, and lobbyist Adama Iwu, you can see a single elbow dressed in matching black velvet. TIME editor-in-chief Edward Felsenthal explained on the TODAY show Wednesday morning that the elbow belongs to another woman, a Texas hospital worker, who shared her story with the magazine but "doesn't feel that she can come forward without threatening her livelihood."
Felsenthal called the national reckoning happening around sexual harassment and assault "the fastest moving social change we've seen in decades," but added: "We look at the degree to which this is really just the beginning — and how far will it go?"
The anonymous hospital worker simultaneously symbolizes everything the movement is fighting against and proves that, in order for real change to take place, a lot more needs to happen.
The #MeToo hashtag took over social media in an attempt to highlight how far-reaching harassment and assault are in modern society, and the onslaught of posts made it apparent that sexual violence transcends gender, class, race, and industry.
As women and men alike realized that everyone knows at least one person who's experienced inappropriate sexual behavior (and felt safe telling the world), a cultural shift began to take place. Still, women knew there were others who didn't yet feel safe declaring "me too."
"The Silence Breakers" were named the most influential group of the year because they started a public discussion about the pervasiveness of the issue and publicly accused powerful men of sexual misconduct. The exposés that followed helped illuminate why women often stay quiet, and also how men get away with abusing their authority for decades.
Not only are women scrutinized, blamed, and discredited when they come forward with allegations of harassment or assault, they're often threatened, too. A 2003 study cited by the U.S. Equal Employment Opportunity Commission found that 75 percent of workers who report workplace harassment experienced retaliation. Disgraced film executive Harvey Weinstein, for example, allegedly threatened to ruin actresses' careers (Weinstein denies this).
#MeToo is about women reclaiming their bodies, teaching men that consent is mandatory, creating an environment where women feel safe going to work, and making it possible for women to out their abusers without fear of retaliation. The fact that the five women on TIME's Person of the Year cover (three of whom are not celebrities) felt safe enough to become faces of the #MeToo movement proves that real progress has been made.
But the same time, though, the anonymous elbow reminds us that the journey is far from over.
Yes, countless women have publicly named their abusers, and seemingly untouchable men have seen their careers crumble following sexual harassment or assault allegations. But so many women are harassed by men who aren't famous and who hold considerable power over their careers and livelihoods. Like the unnamed hospital worker, many women don't feel safe coming forward — even as well-known politicians, actors, and journalists are held accountable for years of sexual misconduct.
As TIME's story stated about the woman:
She too is a victim of sexual harassment but was there anonymously, she said, as an act of solidarity to represent all those who could not speak out.
The anonymous elbow is a powerful symbol that highlights the fact that though the flood gates may have been cracked open, it will take much longer to ensure they stay that way for good.