The Ariana Grande Concert Death Toll Is Heartbreaking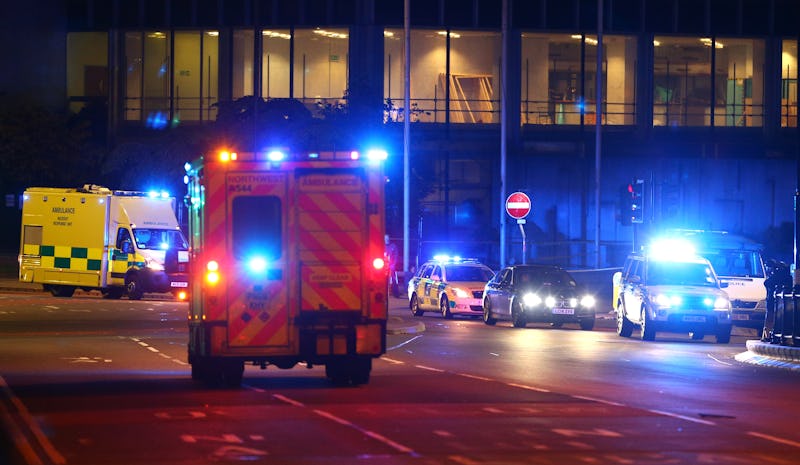 Dave Thompson/Getty Images News/Getty Images
On Monday eventing, there was an explosion at an Ariana Grande concert in Manchester, England. Authorities are still investigating the cause of the blast, but a preliminary death toll has been announced, and it's nothing short of tragic.
UPDATE: The Greater Manchester Police have increased the death toll from 19 to 22 and the number of individuals injured from about 50 to at least 59.
EARLIER: Greater Manchester Police said on Twitter that there were 19 confirmed deaths, as well as around 50 people injured. U.S. authorities briefed on the incident told NBC News that British investigators suspect a suicide bomber was responsible. This has not been confirmed, but Manchester police said that it's "currently being treated as a terrorist incident until police know otherwise." U.S. officials told NBC News that some of the fatalities may have been caused by concert-goers stampeding out of the arena, but this was according to early reporting and has not been confirmed.
The explosion took place shortly before 10:35 pm local time, according to police. Manchester Arena, where the concert was being held, released a statement saying that the blast occurred "outside the venue in a public space." The concert had recently concluded at the time of the explosion, and a representative for Grande told Variety that she is "okay."
Manchester Victoria train station, across from the arena, announced that it has been evacuated, and all upcoming trains are canceled.
There has been conflicting information regarding how many explosions there were. Initial reporting suggested that there was only one, but CBS correspondent David Begnaud reported on Twitter that there were two. A U.S. law enforcement source told CBS News that there was "one, possibly two" explosions, while U.S. intelligence officials told NBC Nightly News that according to preliminary reports, there was a single explosion outside the southwest side of the arena. One eyewitness told The Guardian that he and his friends heard three explosions.
It's unclear precisely what type of explosives were used, but according to Begnaud, the devices contained nails.
Manchester police also announced on Twitter that there will soon be a controlled explosion in Cathedral Gardens, and that anybody who hears that blast should not be concerned. Police later confirmed that the controlled explosion was a precautionary measure, and that the item detonated was merely abandoned clothing.
In the hours after the explosion, Manchester locals began using the hashtag #RoomForManchester on social media to offer shelter for those affected by the incident. Because nearby trains have been cancelled, transportation out of the area is difficult, and will likely remain so for some time.