The Army Now Accepts Some Recruits With Histories Of Mental Health Struggles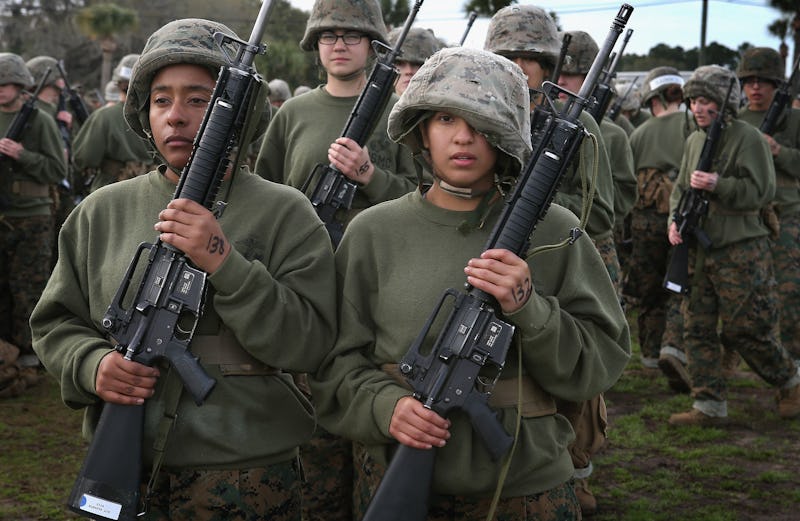 Scott Olson/Getty Images News/Getty Images
In an unannounced policy only now being reported, the Army now accepts recruits with certain mental health struggles. For years, potential recruits with histories of self-mutilation, bipolar disorder, depression, and drug or alcohol struggles have been banned from enlisting in the Army. However, the Army lifted that restriction in August, USA Today reported Sunday, in part to fulfill its goal of recruiting 80,000 new service members by September 2018.
"The decision was primarily due to the increased availability of medical records and other data which is now more readily available," Lt. Col. and Army spokesperson Randy Taylor told USA Today in a statement. "These records allow Army officials to better document applicant medical histories."
The Army stopped accepting enlistees with the aforementioned mental health struggles in an attempt to prevent troops from taking their own lives. In 2009, the suicide rate in the Army was twice the national average, and the Army launched a 15-month review in an attempt to figure out why. The investigation found that, thanks to the troop demands of the wars in Afghanistan and Iraq, the Army had loosened its standards for accepting recruits with certain mental health backgrounds.
Although the Army stopped accepting such recruits in 2009, suicide rates continued to rise. In 2012 and 2013, more service members died by suicide than in combat; that number includes members of both the Army and other branches of the armed forces, although around half of the suicides in question were Army members.
A 2014 study found that 25 percent of enlisted troops struggle with mental health in some form or another, a rate far higher than the general population. To be clear, the new policy doesn't mean that the Army will automatically enlist recruits with bipolar disorder, self-mutilation, depression, or substance addictions, nor that they will stop screening for such histories. Recruits with such backgrounds will still have to receive waivers from the Army in order to be allowed in, and there's no assurance that any given recruit will be granted such a waiver.
"For all waivers, the burden of proof is on the applicant to provide a clear and meritorious case for why a waiver should be considered," an Army memo obtained by USA Today says. For instance, if a potential recruit with a history of self-mutilation attempts to enlist, they must provide the Army with medical records and a detailed statement, and undergo a psychiatric evaluation.
The difference is that now, the Army won't automatically rule out anybody with such mental health struggles in their histories from enlisting. Taylor told USA Today that the decision was based on "additional data" on recruits being made available to the Army, although he didn't elaborate on what this data is.
"With the additional data available, Army officials can now consider applicants as a whole person, allowing a series of Army leaders and medical professionals to review the case fully to assess the applicant's physical limitations or medical conditions and their possible impact upon the applicant's ability to complete training and finish an Army career," Taylor said. "These waivers are not considered lightly."
USA Today reported in October that the Army had loosened its recruitment standards and offered attractive bonuses to new enlistees in an attempt to hit its recruitment goals. However, that report made no mention of mental health; rather, it merely said that the Army had been accepting more troops with histories of marijuana use or who scored low on standard military exams.
According to Sunday's USA Today report, the Army lifted its restrictions on troops with certain mental health struggles in August, but didn't publicly announce the change. What's unclear is how many mental health waivers have been granted and, likewise, how many enlistees who would have been banned in recent years have been admitted under the new policy.