The 'Arrested Development' Cast Explains How The Show Is Handling The Tambor Allegations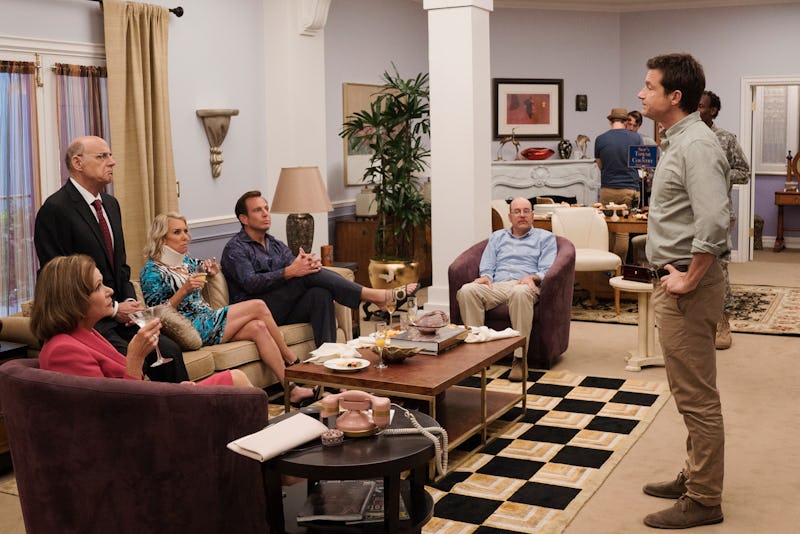 Netflix/Saeed Adyani
It's been five years since the last season of Arrested Development (not counting the "remixed" version of Season 4 that debuted earlier this month), and a lot has happened in the years since. But while fans are no doubt eagerly awaiting Arrested Development Season 5, sexual misconduct allegations against star Jeffrey Tambor have complicated the show's press cycle leading up to the May 29 premiere on Netflix. At the Season 5 premiere in Los Angeles, cast members spoke to Bustle about uncertainties surrounding Tambor's role this season (which was shot and completed before the allegations broke) and teased where the Bluth family is headed.
After a seven-year break, Season 4 premiered on Netflix in 2013 and Arrested Development's fifth season was announced in May 2017. However, a few months later in November 2017, Tambor's Transparent co-star Trace Lysette came forward with allegations of sexual harassment against him. (She was the second accuser following fellow transgender woman Van Barnes, Tambor's former personal assistant.) In an official response given to Deadline, Tambor denied the claims, saying, "I have never been a predator — ever. I am deeply sorry if any action of mine was ever misinterpreted by anyone as being sexually aggressive or if I ever offended or hurt anyone."
In February 2018, Tambor was fired from Transparent. He released a statement, obtained by The Hollywood Reporter, saying, "I am profoundly disappointed in Amazon's handling of these false accusations against me." Though Tambor has steadfastly denied the allegations, many fans were surprised that Tambor would still star in Arrested Development's new season. Even though shooting was completed on the show before the allegations broke, some still suggested he could be edited out of the show. However, he'll still appear in the new season.
At the premiere, actor David Cross (Tobias) helps explain the behind-the-scenes timeline. "No, I mean, all that stuff happened after we wrapped," he says. "So it would never enter this story." Tony Hale, who plays George Sr.'s (Tambor) codependent son Buster, says that even if the show didn't wrap before the allegations surfaced, the issue would be totally inappropriate to joke about on the series. "It's been a very, very sensitive issue for both parties involved and definitely not something to joke about," Hale says. "But I can only really speak from my experience working with Jeffrey, he's been nothing but respectful."
Though questions about allegations of harassment against Tambor cast a pall over the new season, all the stars seem eager to discuss the lighter topics, like what it was like to revisit the Bluth family. Jason Bateman, who stars as George's son Michael Bluth, hints at what's in store for George Sr. and the rest of the Bluths. "We're basically all just doing more of the same [stuff]," Bateman says. "That's kind of what I think the audience wants. You go to a concert, you want the band to play the hits, not to reinvent the wheel too much." Meanwhile, Jessica Walter, who plays Tambor's on-screen wife Lucille, says she hopes George Sr. can move on from their split. "I don't know. I want him to find happiness, maybe with somebody else," she says.
For the most part, it seems the Bluths will still be the same hysterical and dysfunctional clan fans know and love, but they have grown since we saw them last. "We're more assured of how smart we are, but we're different in that we've actually gotten a lot dumber," Bateman jokes. While Cross teases that the Bluths may have a bit more struggle now that the "stakes are higher," there's also the fact that they're returning five years later. "Everyone is also older," he says. "A little more neck fat, I think."
While Hale teases that the Bluths start to go in "different directions" in Season 5, the actors are excited for fans to see where their characters end up. Bateman is most eager for fans to see Michael scuba dive. "Michael Bluth is in a full wetsuit for a good portion of a couple episodes... It was pretty fun," he says. Portia de Rossi teases her character Lindsay's many revolutions (besides running for office). "She's a very different Lindsay. She's on a quest to find her biological family and it has really changed her as a person," she says. "She's not quite as influenced by her Bluth family."
Still dependent on their mom Lucille (Walter), however, is Buster. "I'm still petrified of my mother," Hale says. "Getting back into the show, anytime I hear Jessica's voice, it's like pavlovian response where I'm back in my codependent nightmare." Meanwhile, Lucille's embarking on a new journey. "She's gonna dump George," Walter teases. "She's gonna look for love."
The Bluths may be (questionably) a tad wiser and going in different paths, but certain long-running jokes will still be there for loyal fans. "Tobias can say that he blue himself without knowing that that started back in Season 2," Batman says. "It's gonna work in any season." And what would AD be without Lucille's facial expressions? "Lucille is still winking," Walter says. "Not as often. I filmed a big wink scene, but I think it was cut. Anyway!" she jokes. Despite everything, it's good to hear that too much hasn't changed among this fictional pack of lunatics.